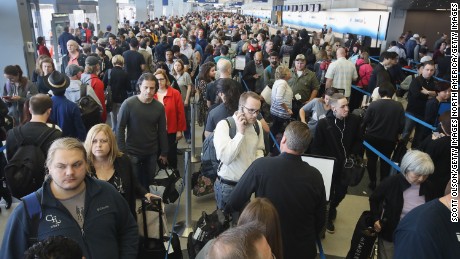 Washington (CNN)The head of the Transportation Security Administration said Friday he doesn't know how many more TSA officers he needs to reduce wait times at the nation's airports, saying the agency first needs to review individual airports' staffing needs.
"I hesitate to put an exact number out there still because I'm still trying to work out the final staffing models," Peter Neffenger told CNN in an interview.
He added, "I want to make sure that I can staff as many lanes as I need to at peak periods in the largest area airports because that's where we're seeing the problem. Most airports across the country are actually doing quite well. It's the top 20 or so, and in that, a handful on any given day that can experience problems."
Neffenger explained that the staffing needs to be targeted.
"It's not just a blanket staff across the system," he said. "It's targeted to the airports. And in those airports, we're looking airport by airport with our airline partners and our airport partners to model out the peak periods that come through. So, if I give a number, I don't want to overstaff."
The waits are particularly painful this weekend as Americans travel for Memorial Day, with about 1.7 million people expected to travel through Chicago's O'Hare International Airport, one of the hardest hit in the nation.
Neffenger also told CNN Friday he was confident the U.S. can protect against any threats from international flights after being asked about concerns that Cairo's airport lacks body scanners and the country does not have access to the terror watch list.
"We expect the country to do its job, to vet its people, to ensure that they're careful. But that's why we put so much focus on the aircraft itself, so that I can be assured that anything that's going on to that aircraft, any person who's going aboard that aircraft and people who are operating that aircraft and the aircraft itself is safe to be in the United States," Neffenger said.
Asked about the lack of body scanners in Egypt, he said there were alternatives they could use.
"There are other ways to ensure you've got adequate screening," he said. "You can do full body pat-downs. One of the things that we do is to go into those airports on a very regular basis and we monitor the way they are conducting their screening operation and their security operations. And if at any point we feel that they're not meeting our standard, then we can take actions to prohibit those flights from coming to this country."
Read more: http://www.cnn.com/2016/05/27/politics/tsa-wait-times-peter-neffenger/index.html