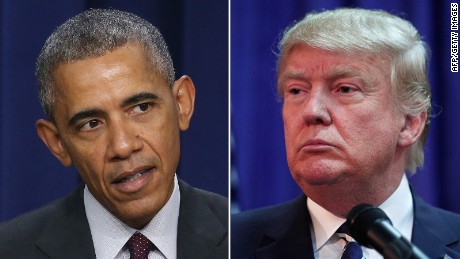 Washington (CNN)Donald Trump on Saturday questioned why President Barack Obama didn't mention the Japanese attack on Pearl Harbor during his trip this week to Japan.
"Does President Obama ever discuss the sneak attack on Pearl Harbor while he's in Japan? Thousands of American lives lost. #MDW," tweeted Trump, the presumptive Republican nominee.
Obama did not publicly mention the surprise 1941 attack that pulled the U.S. into World War II while on his historic trip to Japan this week, during which he became the
first sitting U.S. president to visit Hiroshima
. He used the visit to discuss the threat of nuclear weapons.
"Why do we come to this place, to Hiroshima? We come to ponder the terrible forces unleashed in the not-so-distant past. We come to mourn the dead … their souls speak to us and ask us to look inward. To take stock of who we are and what we might become," Obama said during his visit to the city's Peace Memorial Park.
The White House didn't immediately comment on Trump's tweet Saturday evening.
Trump supporter Sarah Palin also criticized the trip, calling it part of the President's "apology lap."
Palin, speaking at a Trump rally in San Diego Friday night, said Obama's trip to Hiroshima was "dissing our vets."
Earlier in the week, in a joint press conference with Obama, Japanese Prime Minister Shinzo Abe said he had no plans to visit Pearl Harbor despite the president's trip to Hiroshima.
Read more: http://www.cnn.com/2016/05/28/politics/donald-trump-criticizes-barack-obama-pearl-harbor/index.html