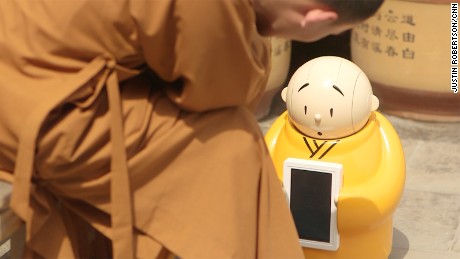 Beijing (CNN)This funny-looking, chubby robot might well be the most popular Buddhist monk in China.
Standing two-feet (60 centimeters) tall, Xian'er is based on a cartoon character created by a Buddhist master at Beijing's Longquan Temple.
He's already attracted a steady stream of admirers to the 1,700-year-old place of worship after first shooting to fame on Chinese social media.
Himself a graduate of the prestigious Peking University, Xianxun said the main reason is that the temple is in an area close to Beijing's — and arguably China's — top universities.
China officially remains an atheist country.
In the temple's library, which houses tens of thousands of Buddhist books, a full array of ideological works by and about Chinese President Xi Jinping can hardly be missed.
Yet Xian'er doesn't seem care too much about Communist ideology.
Read more: http://www.cnn.com/2016/05/30/travel/china-buddhism-robot-monk/index.html