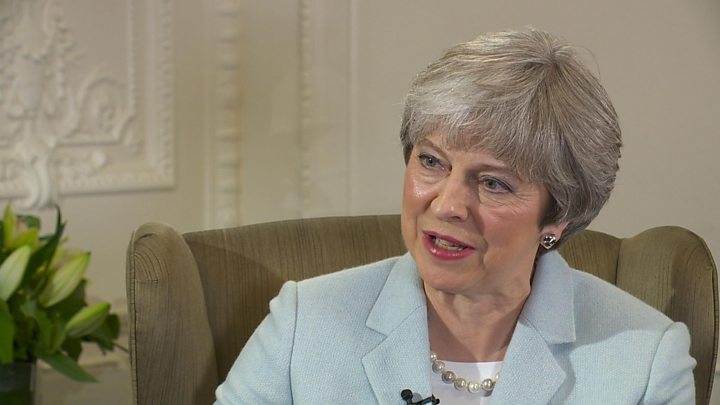 Prime Minister Theresa May has dropped plans to hold a vote on the fox-hunting ban during this parliament.
The Conservatives promised a vote on repealing the Hunting Act – which bans the use of dogs to hunt foxes and wild mammals in England and Wales – during the 2017 general election campaign.
But Mrs May told the BBC's Andrew Marr Show there was a "clear message" against it from the public.
It comes as the prime minister prepares to reshuffle her cabinet on Monday.
In July, shortly after the government lost its majority in the election, it backed away from the manifesto promise, saying there would not be a vote held until at least 2019.
Tony Blair's Labour government introduced the Hunting Act in 2004 across England and Wales.
Mrs May's predecessor, David Cameron, had promised a free vote on whether to repeal it when he was in power, but it never materialised.
This latest announcement means any vote will not take place until at least 2022 – after the next general election is due to be held.
'The view of the country'
Mrs May, who has previously shown support for fox-hunting, told the Andrew Marr Show she had not changed her "personal view", but had listened to the "messages" she got during the election.
"My own view has not changed but as prime minister, my job isn't just about what I think about something, it's actually about looking at what the view of the country is," she said.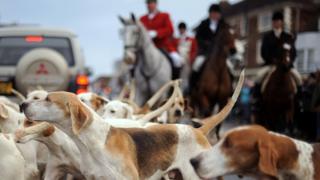 "I think there was a clear message about that and that's why I say there won't be a vote on fox-hunting during this parliament."
The announcement was welcomed by anti-hunting campaigners.
The League Against Cruel Sports said hunting was a "barbaric" practice "which still sees British wildlife being torn to pieces by packs of hounds".
"It appears that the government now accepts that cruel sports should no longer be a part of 21st century society so it's good to know they won't try to legalise it again in this Parliament, though they may try again in the next," said spokesman Chris Pitt.
The group also called for stronger action against illegal hunting which it said was being carried out in the name of "trail hunting".
A vote on the issue is one of a number of manifesto pledges dropped after Theresa May lost her parliamentary majority in June, including plans to scrap universal free school lunches for infant children and radical reforms to social care funding.
Fresh faces
The announcement comes ahead of a cabinet reshuffle, which will take place across Monday and Tuesday.
Several newspapers have reported that Justine Greening will lose her role as education secretary, and a new first secretary of state will be appointed.
They also claim that Boris Johnson, Philip Hammond, David Davis and Amber Rudd will stay in place. However, Downing Street dismissed reports about individual ministers as "pure speculation" and all "guesswork".
Mrs May told Andrew Marr that Damian Green's exit as first secretary of state in December – he was sacked after making "misleading statements" to the press about pornography found on his office computer in 2008 – meant a reshuffle was needed but she would not pre-empt what would be announced.
"Damian Green's departure before Christmas means some changes need to be made, and I will be making some changes," she said.
As well as Mr Green, two other cabinet ministers have quit in the past two months.
Sir Michael Fallon was the first to resign from his post of defence secretary in November 2017 amid allegations around his conduct.
One week later, Priti Patel quit her job as international development secretary, after a row over unauthorised meetings with Israeli officials.