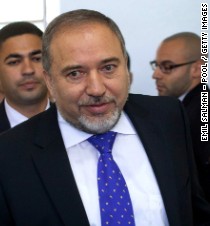 Jerusalem (CNN)One of Israel's most controversial politicians, hard-liner Avigdor Liberman, was sworn in as the country's new defense minister on Monday.
Liberman's appointment comes after weeks of political turmoil leading to the resignation of his predecessor,
Moshe "Bogie" Ya'alon
, in protest.
The majority of the Knesset, Israel's parliament, voted in favor of Liberman. Israel state radio broadcast on Monday that of the 120-seat Knesset, 55 members voted in favor of Liberman, while 43 voted in opposition.
Prime Minister Benjamin Netanyahu's coalition now includes all the right-wing parties and excludes the left-wing parties, which some politicians find problematic.
Hanan Ashrawi, a Palestine Liberation Organization Executive Committee member, has criticized the addition of Liberman to the government.
"Such a decision is extremely dangerous. Lieberman, who has called for the beheading of Palestinians and for their transfer outside the state of Israel, is a serious threat to peace and stability, and his appointment will generate a culture of lawlessness, extremism, violence and hate in Israel."
Liberman, a member of the right-wing Yisrael Beiteinu party, has a history of making controversial comments.
In March 2015, Liberman said that Arab-Israelis who are not loyal to Israel should be beheaded. "We need to pick up an ax and cut off his head," he said, speaking before the most recent elections. In 2001, he said he would bomb Egypt's Aswan Dam in the event of a war between Israel and Egypt.
However, when it comes to peacemaking with their neighbors, both Netanyahu and Liberman seem to see eye to eye, holding firm on the notion of a two-state solution with the Palestinians.
"I take this opportunity to make clear that I remain committed to making peace with the Palestinians and with all our neighbors," said Netanyahu.
"I listened to everything you [the Prime Minister] said and I absolutely agree with every word, including two states for two peoples," said Liberman after Netanahu's comments on Monday.
Liberman is an immigrant from the former Soviet Union who lives in a West Bank settlement that many in the international community consider to be illegal.
He served as the foreign minister but critics have taken issue with Liberman's limited military experience as he takes on this new role.
Read more: http://www.cnn.com/2016/05/30/world/israel-hard-liner-appointed-defense-minister/index.html