Stars get together in New York to swap stories about casting, drinking and even mooning during the making of the films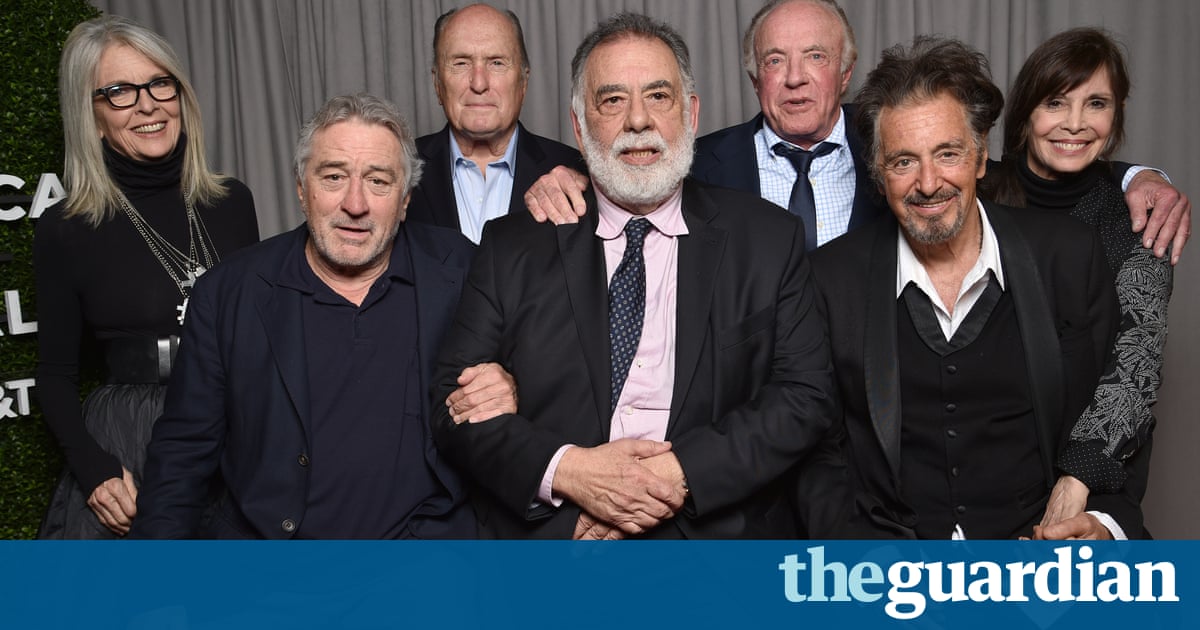 Debilitating studio battles. One miraculously still cat. Mooning contests between James Caan and Marlon Brando. These were the memories shared, 45 years later, on the making of The Godfather in a rare reunion of the films cast and director Francis Ford Coppola in New York.
With the stage decorated to resemble the library of Brandos Don Corleone, and a portrait of the actor hanging above, Coppola and cast members Al Pacino, Robert De Niro, Robert Duvall, James Caan, Diane Keaton and Talia Shire, gathered together once again on Saturday. The night at at Radio City Music Hall was organised by De Niro as the closing evening of his Tribeca Film Festival, which preceded the affair with a grand double feature of The Godfather, parts one and two.
That made for a long day the event spanned nearly nine hours but one of giddy delight for devotees of Coppolas masterpieces.
While both films are widely viewed as among the finest ever made, Coppola and cast spoke again and again about the films humble origins. Coppola was a young, untested director, Pacino was an unknown theatre actor whom the studio, Paramount, was loathe to cast, and few thought the source material Mario Puzos bestseller was the stuff of great cinema.
That included Coppola. I was disappointed in the book when I first read it because its very long, said the director, who called Puzos book a bit of a potboiler.
Coppolas battles over casting Pacino as Michael Corleone have long been Hollywood legend. To help convince the wary studio, Pacino said he did more screen tests including after he actually got the part than he could remember. Pacino even suggested Coppola shouldnt fight so hard for him, telling him, Its OK. Well work again. There are other things to do.
But Coppola was enamoured with the young actor. After meeting him in San Francisco, he couldnt shake the image of Pacino as Corleone. I just saw his face, said Coppola. Everywhere we went, all the girls lit up for Al, for some reason.
Still, Pacino was skeptical. I thought, Gee, its not a really good role, said the now 77-year-old actor of the part that earned him two Oscar nods and made him a movie star. Sonny is the part I can play, he said, referring to the hot-headed Sonny Corleone, played by Caan. (De Niro, who ended up playing young Don Vito Corleone in Part II, also auditioned for the part of Sonny.)
When the shoot got off to a rocky start, Pacino lost his already shaky faith. Its over, he remembered thinking. This is the worst film ever made!
But Pacino said he was straightened out after a pep talk from Coppola, who showed him early footage of his performance and told the struggling Pacino to get your chops together.
Many similar stories were shared on Saturday. All marveled at the cat, roaming nearby, that was thrust into one scene where it calmly burrowed in Brandos lap. After the lengthy wedding scene, Pacino said, he and Keaton got so loaded, we were on the floor. During the same scene, Duvall said: We were all mooning each other and Brando took it very seriously.
Brando, of course, wasnt the only one missing on Saturday. John Cazale, who played Fredo, died in 1978 but was spoken of frequently, as was cinematographer Gordon Willis.
Having recently watched the films for the first time in decades, Keaton could hardly contain her amazement.
Every choice you made was so authentically brilliant, she exclaimed to Coppola. Its so unusual!
Read more: https://www.theguardian.com/film/2017/apr/30/an-offer-they-couldnt-refuse-the-godfather-cast-reunite-45-years-on