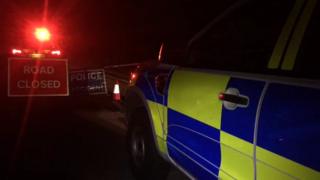 A 17-year-old boy and a 28-year-old man have been killed and another seriously injured in a two-car crash in Devon.
The pair, from Chudleigh, died at the scene of the crash on the B3193 between Chudleigh and Kingsteignton at about 17:45 BST on Monday.
A man in his 60s, also from Chudleigh, was airlifted to Derriford Hospital with life-changing injuries.
Witness Ben Robson-Burrell, 25, who was on his way home from work, said: "It was carnage."
"You could see people running towards it. I got out and ran.
"An older gentleman was trapped in one of the cars. I jumped in to try and get him out.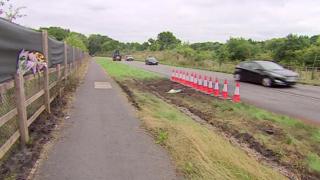 "We wanted to get him away from the other car, it was engulfed in flames. No-one could get near it.
"I didn't know anyone was inside."
The road was closed on Monday evening while an investigation into the crash took place.
Police are appealing for witnesses.
Read more: http://www.bbc.co.uk/news/uk-england-devon-45328440