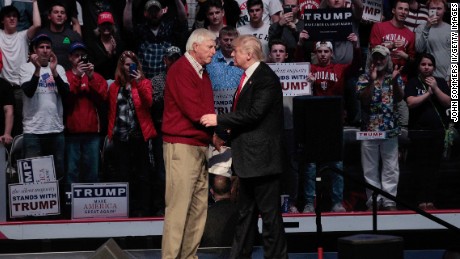 (CNN)I "X" you. Then I "O" you. In the context of a text message or an email, it means I give you a kiss and a hug.
A basketball or football coach might use an X and an O in a different way: to diagram a play, using "X" and "O" to denote teammate and foe. No tokens of affection are involved.
There's less publicly available information about Trump's potential supporters from the world of sport, but he does, undoubtedly, have young professional athletes as well as old ex-coaches who are for him. Maybe because they, too, have conservative beliefs. Maybe because they, too, have a lot of money and would like less of it taxed. Or maybe they simply see him as what every athlete sets out to be, a winner.
Maybe the answer is just that simple: Trump is obsessed with winning no matter what, and this could be what coaches like about him. He thinks the way they have to in order to be professionally successful. Trump himself implied as much about Tom Brady. The quarterback of the New England Patriots has been trying to clarify his relationship with the candidate ever since a Trump cap was spotted last September in his locker. After a triumph in March in the Massachusetts primary, Trump
thanked Brady
for being an "enormous help," implying that the popular Patriot had helped sway that state's voters, whether meaning to or not.
"He's a winner and he likes winners," as Trump put it.
Let the games begin.
Read more: http://www.cnn.com/2016/05/03/opinions/coach-in-chief-downey/index.html