There was little visible evidence of personal chemistry and Trumps unpredictability meant May had been advised to wing it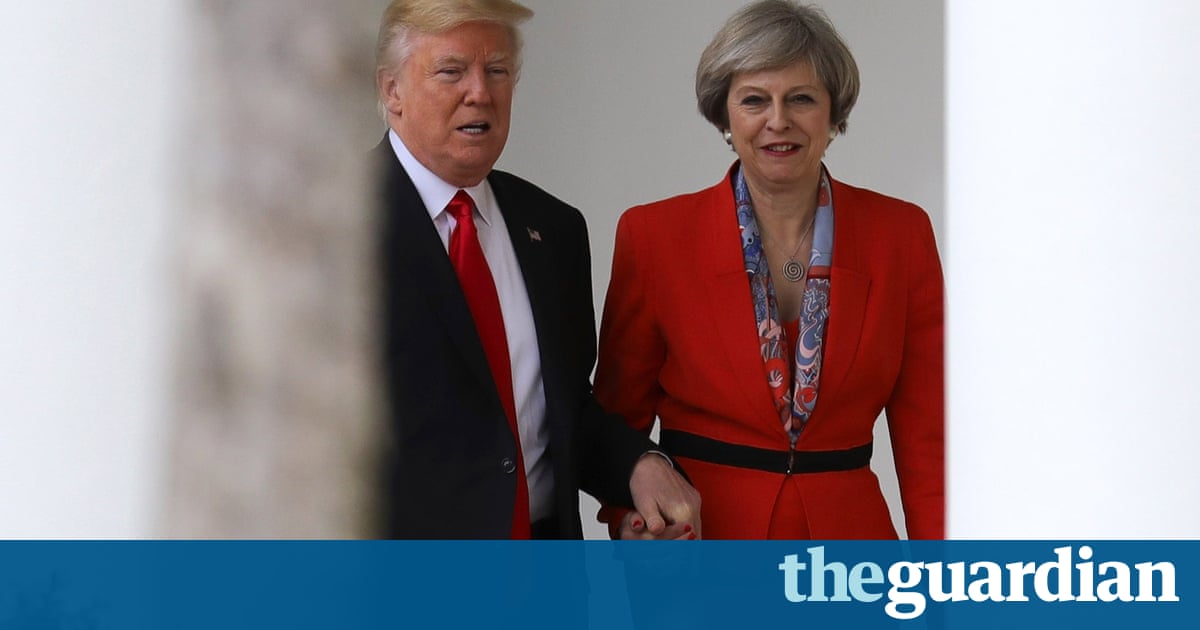 Donald Trump and Theresa May bonded over their shared admiration for Margaret Thatcher as they lunched at the White House on Friday and he hopes their relationship will become even closer than the famous political romance between the Iron Lady and Ronald Reagan. Mays historic US visit was the centrepiece of a whirlwind diplomatic tour that took in Philadelphia and Ankara, as well as Washington. But her key priority was to strike up a warm relationship with Trump, and on that score it was mission accomplished.
After pulling off a mercifully gaffe-free press conference, the pair disappeared behind closed doors to continue their conversation in private, over an all-American lunch of beef short ribs.
May and Trump are an oddly matched pair a flamboyant billionaire reality-TV star and a vicars daughter who has built a solid political career on staying out of the limelight. But Downing Street insisted the conversation was warm, free-flowing and unscripted.
The two leaders chatted about shared admiration for Thatcher and her partnership with Reagan, No 10 said, and the fact that, they achieved great things together, in their own countries and in the wider world. Trump told the prime minister that he had looked up to Reagan, and wanted his relationship with May to be even stronger. He told her more than once that when he goes to the UK on a state visit later this year after May extended an invitation from the Queen I want to see you first.
Team May was delighted with the outcome of Fridays meeting in the Oval Office and the press conference beneath the chandeliers of the White House. There were plenty of reasons to remain cautious, however. Committed to leaving the European Union, May came in need of a lifeline but got few details on a trade deal. She and Trump were hardly in lockstep over sanctions on Russia. And although she had gone into the visit claiming opposites attract, the alleged personal chemistry was not visible to the eye. Both leaders tried hard, but the relationship looked brittle.
To celebrate getting through an 18-minute press conference without a diplomatic catastrophe as a victory might seem the definition of setting the bar low. But it is also a measure of who Britain is now dealing with. The last time Trump shared a platform with a female politician for a question-and-answer session, he called her a criminal, a puppet and such a nasty woman. That was Octobers presidential debate with Hillary Clinton. It was a warning to May, as if one were needed, that Fridays visit would be no normal exercise in diplomacy.
For a start, a White House schedule sent to journalists referred to the prime minister three times as Teresa May, leaving out the h in her first name. Teresa May, it transpires, is the name of a veteran UK glamour model and porn star.
It was 12.16pm when, according to a pool report, journalists stepped into the Oval Office to see Trump and May standing near chairs next to the fireplace. Between them was the newly returned bust of Winston Churchill, whose coinage of the phrase special relationship has burdened prime ministers and presidents ever since. Wearing a dark suit, red tie and an American flag badge, the president moved a lamp so reporters could have a better view of the bust. This is the original, he said twice. Its a great honour to have Winston Churchill back.
May, dressed in a red suit that nodded to the Republican party, said: Its a great honour to be here.
Standing close by were Trumps chief strategist, Steve Bannon, who urged the media to keep its mouth shut, national security adviser Michael Flynn, who once tweeted that fear of Muslims is rational, senior adviser Jared Kushner, who is married to Trumps daughter Ivanka, and press secretary Sean Spicer, who told tall tales about the size of his bosss inauguration turnout.
Being the first global leader to meet Trump was fraught with risk. But by binding him into a public affirmation of the two countries backing for Nato, and with a soft-voiced Trump at his most emollient during their press conference, May could claim to have brought him into the fold, rather than whitewashing his reputation.
By publicly reiterating Britains view that sanctions on Russia must remain in place, amid reports that Trump is preparing to lift them, she also underlined the fact that she is willing to tell him uncomfortable truths. Some voters may think she should not have rushed to meet the controversial billionaire; but Mays advisers believe the public will see Fridays trip as pragmatic and as proof that the pair can have a grown-up relationship.
For all the briefing and preparation, Mays team knew that, such was Trumps unpredictability, the best advice to the prime minister was to wing it. They only found out that a formal press conference would take place when Spicer tweeted about it.
There was no winging it on the first leg of the trip in Philadelphia, however; the speech May gave to Republican leaders at their annual retreat was carefully crafted, and she used it to set out a distinctive stance in a way that would have been impossible to do in a half-hour press conference.
As well as the usual warm words about the special relationship, she stressed the importance of facing down Russian aggression and shoring up Nato and warned of the risks if Britain and the US step back from their global responsibilities.
One key player in drafting the speech, honed on the plane en route to Philadelphia, was her strategic adviser Chris Wilkins, who, like Mays no-nonsense director of communications Katie Perrior, and joint chief of staff Nick Timothy, worked with her on the nasty party speech to the Conservative party conference more than a decade ago.
Wilkins, described by colleagues as an unassuming Welshman, was also involved in the Lancaster House Europe speech this month another key plank in what is becoming something like a philosophy of Mayism but the prime minister herself works over paragraphs, and scratches out passages she doesnt like.
There is a streak of patriotic nostalgia running through Mays politics, which makes her less uncomfortable with Trumps form of populist nationalism than David Cameron might have been. In her Philadelphia foreign policy speech, she made liberal use of Churchill quotes and name-checked the Magna Carta. In Washington, where she visited the Arlington cemetery, she made a point of visiting the grave of Churchills man in Washington, Sir John Dill.
Later, she posed for snaps with Trump as he pointed proudly to the bust of the irascible leader, restored to pride of place in the Oval Office, after Barack Obama demoted it in favour of Martin Luther King Jr.
It is hard to imagine any other recent prime minister deliberately drawing parallels between their own politics and that of Trump; but May and her colleagues believe they are riding the mood of the times. The dark side of Trumps nationalism was on display almost immediately after May left, however, when he signed an executive order banning refugees from entering the US.
The impression that Britain is willing to dance with the devil was only underlined by the fact that May flew straight from Washington to meet the Turkish president Recep Tayyip Erdoan at his opulent palace in Ankara.
May believes her whistlestop diplomacy showed that Britain will remain at the centre of global affairs even after Brexit; but it may also cement the idea in the publics mind that, as it turns away from the EU, the UK will have to seek friends wherever it finds them.
As for the already famous moment when she and Trump briefly held hands, which was captured by photographers and splashed over front pages worldwide, Downing Street said that rather than an indication of intimacy it was simply a chivalrous gesture, as Trump reached out to support the prime minister down an unseen ramp. Nevertheless, May was pleased with the coverage. We all thought that todays front pages were very positive, Downing Street said.
Trump himself was so delighted he told her he would save the menu card from their lunch as a souvenir, telling aides: Keep that safe: I had lunch with the British prime minister!
Read more: https://www.theguardian.com/politics/2017/jan/29/theresa-may-donald-trump-bond-love-thatcher-reagan