The singer and songwriter has been curating the Meltdown festival, and is planning to record the first Cure album in 10 years. But will it be fuelled by magic mushroom tea?
The first thing Robert Smith does is apologise for the makeup. He hasnt worn it since his last concert with the Cure, in December 2016, but he has a photoshoot today at the Royal Festival Hall and thinks his features are too indistinct without it. To be honest, I would be disappointed if he wasnt wearing it, along with his regulation baggy black clothes and silver jewellery. Since 1983, the sooty eyeliner, blood-smear lipstick and cobwebbed forest of hair have made him a human logo, transmuted, through the work of people such as Tim Burton and Neil Gaiman, into visual shorthand for the morbidly romantic. He looks like the Cure sound.
Even without the warpaint, Smith finds it hard to blend in. In 1989, at the height of his fame, he moved to the quiet south-coast village where he still lives with his wife, Mary, and gamely attended a meeting in the village hall. It was pretty chaotic, he sighs. I was asked to leave, for no reason other than I wasnt welcome. I thought, Ive made a terrible mistake. He clasps his hands over his face, just like he does in photographs.
For someone who once sang It doesnt matter if we all die, Smith has an endearing relish for the bathetic comedy of life. Like the time, during the first Gulf war, when he held a press conference to explain that the Cures 1979 debut single Killing an Arab was a reference to LEtranger and not, as some US radio DJs thought, an Islamophobic anthem. It was totally surreal, explaining Camus to a sea of utterly bemused faces. Or the time that he interviewed David Bowie for Xfm and arrived so drunk that he proceeded to talk over his hero for two hours. I think my opening gambit was, We can both agree youve never done anything good since 1982, he says, wincing.
For all his easy, blokeish charm, Smith means as much to millions of people as Bowie meant to him. This year, the Cure are marking the 40th anniversary of their first concert under that name (they started in 1976 as Malice) with a flurry of activity. Smith has been rummaging through boxes for a documentary directed by regular collaborator Tim Pope. I knew a few people wanted to whats a nice way of saying exploit? celebrate the 40th anniversary with projects, he says. I said no, but I knew that they would probably go ahead anyway unless I made it very obvious that we were doing something. The Cure may even make their first album since 2008, but we will get to that.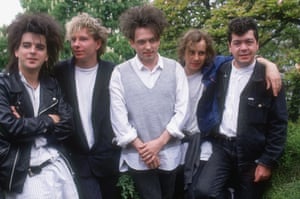 Read more: https://www.theguardian.com/music/2018/jun/07/the-cures-robert-smith-i-was-very-optimistic-when-i-was-young-now-im-the-opposite