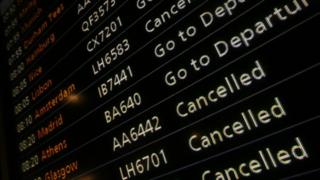 An anti-deportation protest at Stansted Airport in Essex temporarily halted take-offs and landings late on Tuesday.
Police were called as campaigners lay on the ground beside an aircraft.
Those involved were trying to stop a charter flight which they claim was due to deport people to Nigeria and Ghana.
A spokesman for the airport said that as a "precaution" Essex Police attended the scene while some flights were diverted or cancelled.
Commercial flights due to arrive from Naples, Cologne, Glasgow, Riga, Belfast and Bilbao, between about 21.30 BST and 22.30, were affected.
The spokesman said more than 10 people were near an area of the airport used by private operators, but did not confirm where the aircraft was destined.
He said the protest took place in a remote part of the airport, away from the passenger terminal or runway.
Protestors posted images of themselves lying on the ground as they were surrounded by security staff and police.
In a Facebook post, they said the flight was due to "forcibly deport dozens of people to Nigeria and Ghana" but this has not been confirmed.
One of the protestors, Susan James, said: "I don't want to stay silent in the face of mass deportations that are deliberately rushed and secretive."
Read more: http://www.bbc.co.uk/news/uk-39426119