Detained Isis fighter Yago Riedijk says it was her own choice to marry him aged 15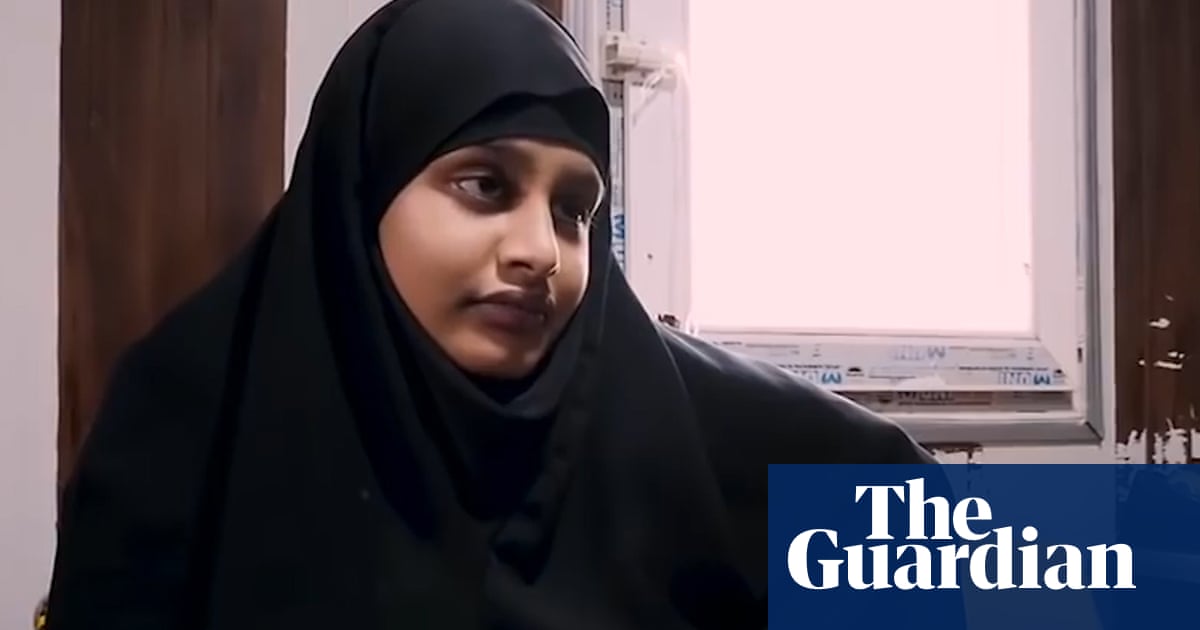 The Dutch husband of Shamima Begum, the teenager who fled the UK to join Isis, has said he wants to return to the Netherlands with his wife and newborn son.
Speaking to the BBC, Yago Riedijk, 27, said he rejected Islamic State, who reportedly tortured him on suspicion of being a Dutch spy.
He admitted to fighting for Isis and may face a six-year jail sentence if he returns to the Netherlands.
Riedijk is being held in a Kurdish-run detention centre in northern Syria. Begum and Riedijk are said to have fled Baghuz, Isiss last foothold in eastern Syria as it lost territory in recent months.
Begum, 19, who until recently was in al-Hawl refugee camp in northern Syria, is reported to have gone elsewhere.
Riedijk married Begum days after she arrived in Syria, when he was 23 and she was 15. They have since had three children, two of whom have died. Their daughter, Sarayah, died aged one year and nine months and a son, Jerah, died aged eight months.
Their third child, born in February, could be entitled to Dutch nationality, but the underage union between Riedijk and Begum may not be recognised by Dutch authorities.
A spokesperson for the Dutch Immigration and Naturalisation Service (IND) said it cannot comment on individual cases, but added:
In order to live in the Netherlands with your spouse or partner, you need a residence permit. In order to be eligible for a permit, certain general conditions have to be met.
Please note that a valid passport or another travel document is mandatory. The same goes for meeting requirements regarding public order and national security.
To be clear, the Netherlands dont offer any help to Dutchmen in Syria willing to return. If someone reports at a Dutch embassy or consulate, that person will be transported to the Netherlands, arrested and prosecuted. Foreign fighters with two (or more) nationalities, who are deemed a threat to our national security, can have their Dutch citizenship/passport revoked.
Riedijk, who is said to have rejected Isis, was found in the detention centre by the BBC.
Asked if he thought marrying a girl of that age was acceptable, he said: To be honest, when my friend came and said there was a girl who was interested in marriage, I wasnt that interested because of her age, but I accepted the offer anyway.
We sat down and she seemed in a good state of mind. It was her own choice; she was the one who asked to look for a partner for her.
Then I was invited and, yeah, she was very young and it might have been better for her to wait a bit, but she didnt she chose to get married and I chose to marry her.
It is unclear whether the family could move anywhere at present. The UK home secretary, Sajid Javid, caused controversy when he ordered that Begums British citizenship be revoked on 19 February, despite her having no other nationality. It is illegal for any country to make its citizens stateless under UN law.
The foreign ministry in Bangladesh where Begums parents were born but where she has never been herself later confirmed Begum would not be entitled to Bangladeshi citizenship.
Reidijik is on a terrorism watchlist but has not had his citizenship revoked meaning he technically could still return to the Netherlands if he made it back to the Dutch consulate. The Dutch ministry of justice and security was contacted for comment.
Reidijik left the city of Arnhem, home to a number of Isis recruits, in 2014. There are thought to be 300 Dutch jihadists in Syria and Iraq, according to the BBC.
One other Isis fighter, 37-year old Outhmane B, who travelled to Syria in the same year as Reidijik, was stripped of his Dutch nationality last week.
B lost his citizenship because he has joined an organisation that participates in a national or international armed conflict and poses a threat to national security, according to the Dutch newspaper De Gelderlander.
Reidijik is separated from Begum, who is thought to be living in a refugee camp near the Iraqi border.
She and her son were reportedly moved from al-Hawl camp following death threats after she made statements to the media that she wanted to return to the UK.
Read more: https://www.theguardian.com/uk-news/2019/mar/03/shamima-begum-dutch-husband-wants-to-take-teenager-to-netherlands