More than 100 people from west Africa were onboard a boat that began taking on water on Friday night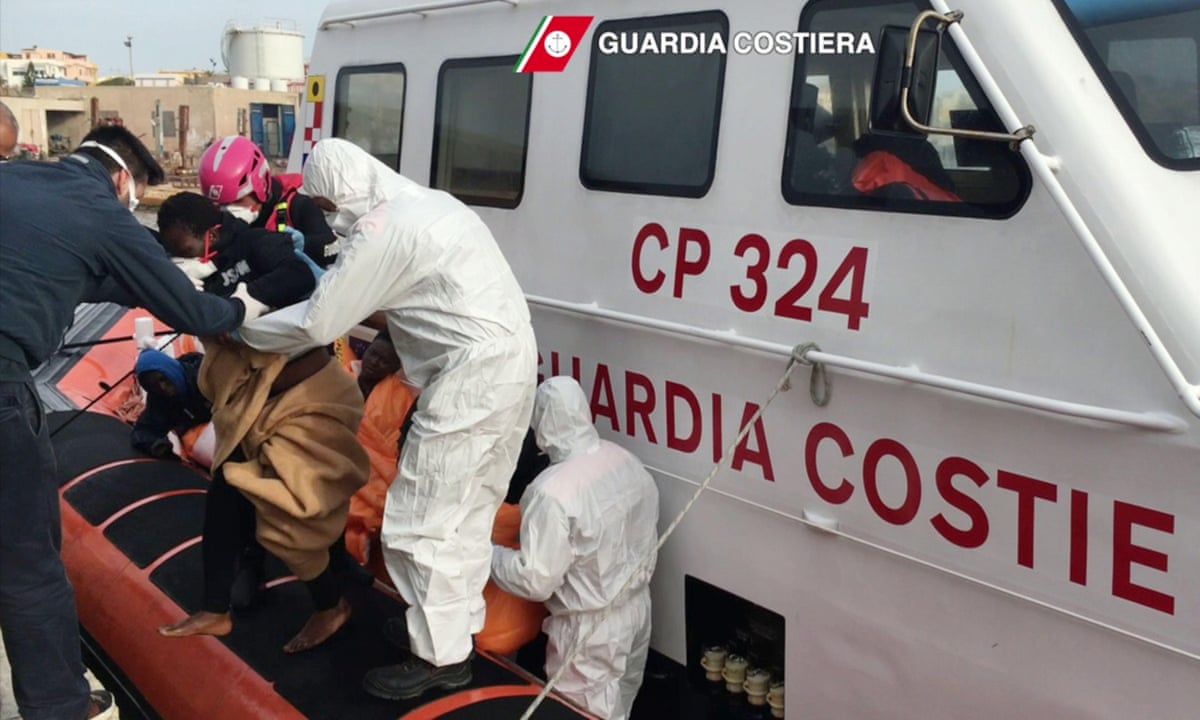 Eighty-four refugees are still missing after an inflatable craft sank off the coast of Libya, according to survivors cited by the International Organisation for Migration (IOM) on Saturday.
Twenty-six people were rescued from the inflatable boat which sank on Friday, and were questioned overnight.
According to testimonies gathered by IOM in Lampedusa 84 people went missing, IOM spokesman in Italy Flavio Di Giacomo wrote on his Twitter feed.
Di Giacomo said the survivors indicated 110 people, all from assorted west African states, had embarked in Libya.
In an email, he added that the vessel was in a very bad state, was taking on water and many people fell into the water and drowned.
Ten fell very rapidly and several others just minutes later.
Earlier on Saturday, Italys coastguard said an Italian cargo ship had rescued 26 refugees from a flimsy boat sinking off the coast of Libya but voiced fears that dozens more could be missing.
The coastguard received a call from a satellite phone late on Friday that helped locate the stricken inflatable and called on the merchant ship to make a detour to the area about four miles (seven kilometres) off the Libyan coast near Sabratha.
Rough seas and waves topping two metres (seven feet) hampered attempts to find any other survivors.
Those rescued were transferred to two coastguard vessel and taken to the Italian island of Lampedusa.
Images released by the coastguard showed two women wrapped in shawls and blankets stepping off one of their vessels.
An IOM spokesman said five unaccompanied minors aged between 16 and 17 were among those rescued.
More than 350,000 people fleeing conflict and poverty have reached Italy on boats from Libya since the start of 2014, as Europe struggles to manage its biggest migration crisis since the second world war.
Most of the 27,000 people who have made it to the Italian coast this year hail from Nigeria, Gambia and Senegal.
Some 500 were rescued on Friday by monitoring vessels in the area while Di Giacomo said two bodies had been spotted in one inflatable craft.
The UN High Commissioner for Refugees estimates 1,261 people have drowned in the Mediterranean this year, chiefly on precarious voyages to Greek islands, in desperate attempts to secure a new life.
The additional refugee flow from the Syrian conflict has put further pressure on search and rescue operation efforts.
Last year, the IOM estimated that around 3,800 people died or were listed as missing in the Mediterranean though some UN estimates put the figure at nearer 5,000.
Read more: http://www.theguardian.com/world/2016/may/01/scores-of-refugees-missing-after-boat-sinks-off-libya