Once seemingly unassailable, Abe is now dogged by plunging polls and allegations of giving favours to two school operators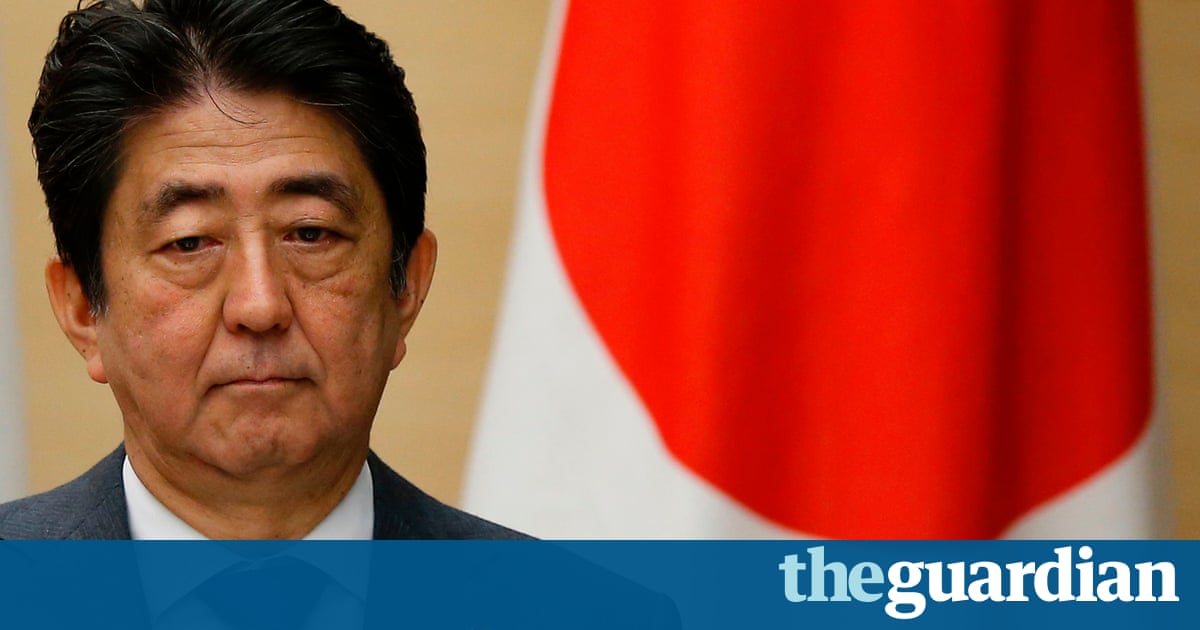 Shinzo Abe is fighting for his future as Japans prime minister as scandals drag his governments popularity close to what political observers describe as death zone levels.
Apart from clouding Abes hopes of winning another term as leader of the Liberal Democratic Party (LDP) when a vote is held next year, the polling slump also undermines his long-running push to revise Japans war-renouncing constitution.
Abe, who returned to the prime ministership four and a half years ago, was long seen as a steady hand whose position appeared unassailable so much so that the LDP changed its rules to allow Abe the freedom to seek a third consecutive three-year term at the helm of the party.
He is no longer invincible and the reason why he is no longer invincible is he served his personal friends not the party, said Michael Thomas Cucek, an adjunct professor at Temple University Japan.
Abes standing has been damaged by allegations of favours for two school operators who have links to him.
The first scandal centred on a cut-price land deal between the finance ministry and a nationalist school group known as Moritomo Gakuen. The second related to the approval of a veterinary department of a private university headed by his friend, Kotaro Kake.
Abe has repeatedly denied personal involvement, but polls showed voters doubted his explanations, especially after leaked education ministry documents mentioned the involvement of a top-level official of the prime ministers office in the vet school story.
Abe attempted to show humility in a parliamentary hearing this week by acknowledging it was natural for the public to sceptically view the issue because it involved his friend.
I lacked the perspective, he said.
Experts doubt that Abes contrition, combined with a planned cabinet reshuffle next week, will do much to reverse his sagging fortunes.
Last weekend a poll by the Mainichi newspaper showed the Abe cabinets approval rating had plummeted 10 points for a second straight month to 26%, the lowest since he returned to power in 2012. The paper pointed out several previous prime ministers including Abe during his first short stint had left office between one and nine months after hitting the 20s.
Cucek said the historical record for prime ministers who fell below 30% was not good. He said one exception was Keizo Obuchi, who served as prime minister from the late 1990s. He fell all the way to what you consider the death zone of 20% support but then pulled up out of it. But hes a rare case where thats taken place. Usually once a prime minister drops below 30% its an inexorable descent from that point on.
While some other polls have been more favourable towards Abes administration, they all confirm a downward trend.
Whats dire about this situation is not just the slump in Abes approval ratings but the driver of the slump, said Tobias Harris, a political observer and vice president of advisory firm Teneo Intelligence.
Each poll has shown that, unlike earlier dips in Abes approval ratings, the slump is driven by falling trust in Abe himself and not disapproval of his policies. Abe himself is the problem, and its not at all clear what he can do to regain the publics trust after months of battling scandal allegations. For me, thats the main reason for believing that he wont be able to recover from this slide.
University of Tokyo professor Yu Uchiyama rated Abes problems as considerably serious, with his internal critics becoming increasingly outspoken.
Abe seemed to be so strong that few LDP politicians tried to challenge him until several months ago, Uchiyama said. As the LDP is in disarray now, more and more politicians, especially factional leaders, are starting to challenge Abe.
That doesnt necessarily mean Abe will resign in the short term.
Harris believes it is more likely he will decide against seeking a third term as LDP chief and therefore leave office in September 2018 when the leadership vote is due. An orderly change would boost Abes successor heading into a general election due by the end of 2018, which strengthens his hand as a kingmaker after leaving office.
The foreign minister, Fumio Kishida, is considered a leading contender, while other potential candidates include former defence minister and Abe critic Shigeru Ishiba.
There is also speculation about Yuriko Koike, a former LDP minister and now Tokyos first female governor, as she led her new Tomin First (Tokyoites First) party to big gains in metropolitan assembly elections early this month. However, Koike is overseeing 2020 Olympics preparations and the mechanics of an early tilt at national office are not straightforward.
Despite Abes troubles, the main opposition Democratic Party has struggled to gain traction. More pressure seems to be coming from the LDPs national coalition partner Komeito, which partnered with Koikes upstart party at a local level.
Komeito is not as determined as Abe to bolster the standing of Japans self-defence forces in the constitution. The question seems to be how soon Abe admits defeat, Harris said.
Read more: https://www.theguardian.com/world/2017/jul/25/scandals-threaten-japanese-prime-minister-shinzo-abes-grip-on-power