Michael OLeary says details to be announced by end of August as he agrees 50% pay cut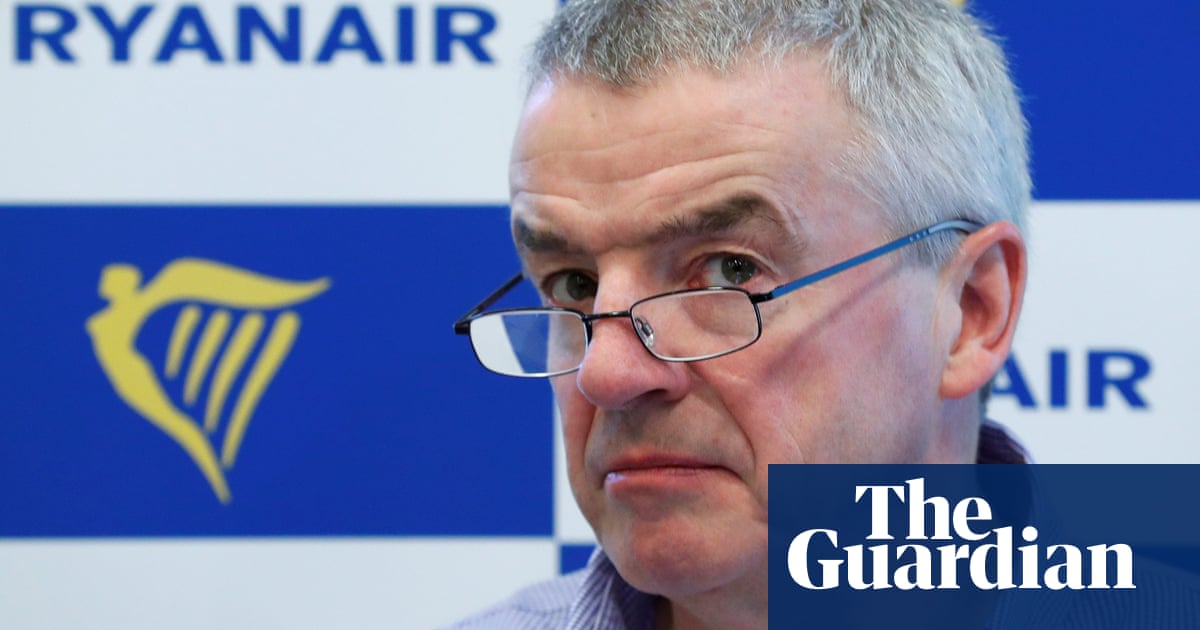 Ryanair boss Michael OLeary has told staff to prepare for as many as 900 job cuts as he warned that the Irish budget airlines expansion plans would be slowed dramatically following the grounding of the Boeing 737 Max.
OLeary said in a video message to employees that Ryanair had an excess of more than 500 pilots and about 400 cabin crew. On top of that, he said, the airline would need 600 fewer people in those roles next summer than it had planned for before the worldwide grounding of the Max aircraft following two fatal crashes.
OLeary said the official number of jobs to be cut would be known by the end of August following negotiations with airports and unions. Jobs would be lost in September and October and after Christmas.
Ryanair employs a total of about 17,000 people, of whom 5,500 are pilots. The airline employs more than 9,000 cabin crew and has a further 1,130 ground operations and maintenance staff, with the remainder in administrative, IT and management roles.
Ryanair said its staff wage bill increased by 17% year-on-year, from 633m (577m) to 738.5m, due to factors including a 20% pay increase to retain pilots and a 2% pay rise for other staff.
We over the next couple of weeks will be doing our very best to minimise job losses, but some are unavoidable at this time, OLeary said in the video.
The company had also been hampered by the rate of staff leaving dry[ing] up to effectively zero, according to OLeary, in the wake of the pay deals following a unionisation drive at the airline.
News of the cuts came as it emerged that OLeary has agreed to take a 50% cut to his pay and maximum annual bonus as part of a new five-year contract. However, he could still be awarded a near-100m share windfall if the group performs well over the next five years.
On Monday, he warned of likely job cuts, bemoaning the impact of delays in returning the Boeing 737 Max to service.
Ryanair has 135 of the Max models on order. Earlier this month the airline cut the number it expects to be delivered in time to fly next summer from 58 to 30. The company had been banking on the plane to deliver fuel and capacity efficiencies to cut costs across its business.
We are still finding other areas where we are paring and shaving costs, OLeary said. We are making up cost savings elsewhere.
OLeary, who in February agreed a new five-year contract to remain group chief executive of Europes largest budget airline until 31 July 2024, received salary, bonus and share-based payments totalling 3.37m last year.
Under the terms of OLearys new deal, his 1m annual salary will be halved and his maximum annual bonus, currently also 1m, will top out at 500,000. In addition, he will no longer be part of Ryanairs long-term incentive share award scheme, from which he received 1.5m last year, according to the airlines annual report.
However, OLeary has negotiated a deal to receive 10m shares, worth almost 100m at Ryanairs current share price of 9.50, if he can hit one of two stretching targets in the next five financial years.
He is already Ryanairs fifth-biggest shareholder with a 3.9% stake 44m shares worth 418m at the airlines current stock market price.
OLeary will receive the shares if he can boost annual net income to more than 2bn or if the airlines share price goes above 21 for 28 days at any point over the next five years.
Ryanairs share price has not hit 21 since the late 1990s but since then managed to reach a high of 19.61 in June 2017. Last year it reported a 39% slump in post-tax profits, the closest equivalent to net income, to 885m blaming factors including the falling price of tickets, competition, the pay increase for pilots and soaring fuel costs. In recent years profits have been as high as 1.5bn.
The company said the rest of the airlines senior management had agreed to accept a pay freeze for the year to the end of March 2020 as part of the companys cost-saving initiatives and in recognition of the reduced profitability in fiscal year 2019.
Read more: https://www.theguardian.com/business/2019/jul/31/ryanair-boss-takes-50-pay-cut