Presumptive Republican nominees delegation from the Golden State is surely among the most colorful cast of characters to grace a national convention
Its not every day that billionaire PayPal founder Peter Thiel ends up on a list with a white nationalist. But toss in a bounty hunter, a Tea Party couple from Wife Swap, a border vigilante and a University of California Berkeley undergraduate and you have the makings of Donald Trumps California delegation to the Republican national convention.
Meet some of the cast of colorful characters who will travel to Cleveland this July to formally anoint Donald Trump as the presidential candidate of the Republican party.
[Update: late Wednesday afternoon the Trump campaign told the Guardian that an updated list of its delegates, without William Johnson and Guy St Onge, was posted on the website of the California Republican Party.]
The border vigilante
Robert Maupin has not been paying much attention to the presidential campaign this year, choosing instead to expend his energy putting up signs for a longshot Republican candidate for Congress, Juan Hidalgo Jr. Still, the 76-year-old rancher from Tierra del Sol said Tuesday that hes content to support Trump because he sure as hell wouldnt want to support any of the communists running. Maupin was profiled by the Los Angeles Times in 2000 for his daily practice of patrolling the mile and a quarter of the US-Mexico border that makes up his property line with a rifle slung over his shoulder and a Glock handgun strapped in his thigh holster. Six years later, Maupin still patrols his property every day, but hes not overly enthused by Trumps proposal of a wall. Actually, I wanted a moat with saltwater gators, he says.
The wife-swappers
John and Gina Loudon are the Tea Party power couple that never quite made it off the C-list. After John was termed out of the Missouri state legislature, where he served in the house and the senate, the couple made waves by guest-starring on reality television show Wife Swap. The family-values conservative switched spouses with a polyamorous part-time wrestler, and in the ensuing weeks Gina was thrown out of the house for her didactic judgmentalism and John grew concerned that dark forces had invaded his home, according to the St Louis Post-Dispatch. Today the couple lives in San Diego, where John works in the private sector and Dr Gina, as she styles herself, hosts a conservative YouTube show.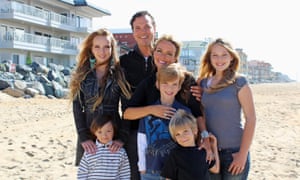 Read more: https://www.theguardian.com/us-news/2016/may/11/donald-trump-california-delegates-republican-convention