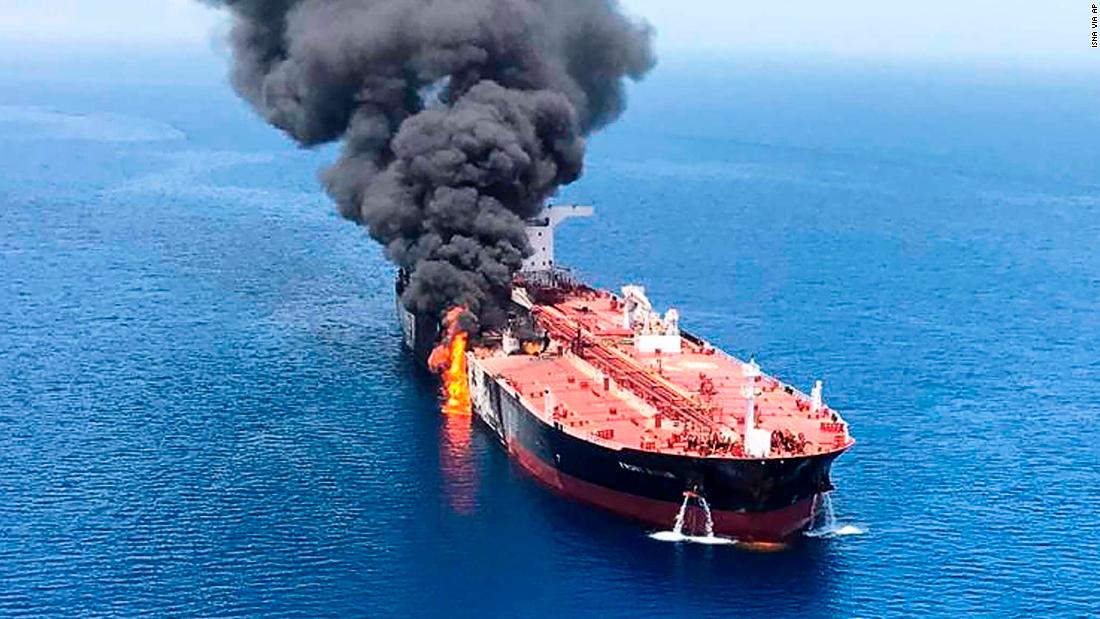 Washington (CNN)US Secretary of State Mike Pompeo blamed Iran for an attack on two tankers in the Gulf of Oman, saying the assessment was based on intelligence, but presented no evidence to support his claim.
"This assessment is based on intelligence, the weapons used, the level of expertise needed to execute the operation, recent similar Iranian attacks on shipping, and the fact that no proxy group operating in the area has the resources and proficiency to act with such a high degree of sophistication," Pompeo said.
Pompeo spoke hours after the two tankers were attacked and less than a month after four other ships in the region were struck in what appears to be a similar way. National Security Adviser John Bolton blamed Iran for those strikes at the time, again without offering evidence that Tehran was responsible.
Iran's Foreign Minister Mohammad Javad Zarif said "suspicious doesn't begin to describe" this latest incident, noting that one of the tankers is Japanese owned and that the attack took place as Japanese Prime Minister Shinzo Abe was visiting Iran in an effort to calm tensions between Washington and Tehran.
"Reported attacks on Japan-related tankers occurred while PM [Shinzo Abe] was meeting with Ayatollah [Khamenei] for extensive and friendly talks. Suspicious doesn't begin to describe what likely transpired this morning," Zarif tweeted.
Pompeo characterized the attack as an insult to Abe. "Iran's Supreme Leader rejected Prime Minister Abe's diplomacy today by saying he has no response to President Trump and will not answer," Pompeo said. He added that the Iranian government "insulted Japan by attacking a Japanese oil tanker just outside Iranian waters."
Pompeo did not take any questions after his statement and met with acting Secretary of Defense Patrick Shanahan later on Thursday afternoon at the Pentagon to discuss the current situation with Iran, according to a US defense official and an administration official.
Shortly before Pompeo placed blame on Iran, President Donald Trump struck a different note, referring to the possibility of talks with Iran in a tweet. "While I very much appreciate P.M. Abe going to Iran to meet with Ayatollah Ali Khamenei, I personally feel that it is too soon to even think about making a deal. They are not ready, and neither are we!" the President said.
The attacks are likely to increase the possibility of a clash between the US and Iran in the Gulf, analysts said, as tensions have steadily increased. In the last few months, the US has intensified its "maximum pressure" campaign meant to starve Iran's economy, targeting the country's oil exports in April.
The Trump administration has also signaled its willingness to consider military force, with Bolton ordering updates to a military plan to send 120,000 troops to the Middle East should Iran attack US forces.
Trump ordered an
additional 1,500 troops
to the region in late May as a "mostly protective" effort to deter Iranian threats he said, just weeks after the US ordered a military strike group to the region.
On Thursday, Pompeo listed a series of Iranian attacks and appealed to other countries to help the US crack down on Tehran.
Pompeo said that "taken as a whole, these unprovoked attacks present a clear threat to international peace and security, a blatant assault on the freedom of navigation, and an unacceptable campaign of escalating tension by Iran."
"The United States will defend its foreign interests and stand with our partners allies to safeguard global commerce and regional stability," Pompeo said. "We call upon all nations threatened by Iran's provocative acts to join us in that endeavor."
'Damage confidence'
Henry Rome, an analyst with the Eurasia Group, said that the "incidents appear aimed at demonstrating the vulnerability of Gulf shipping, while damaging confidence in the US ability to protect freedom of navigation."
He noted that "the game has changed since the end of April," when the US targeted Iran's oil revenues — the central pillar of its economy.
"It's very unlikely it was a rogue operation by the Revolutionary Guard Corps," Rome said, referring to the elite military group with deep political and economic influence. "You have to entertain at least the conclusion that this was the Iranians trying to put an exclamation point at the end of their message to Abe."
The first message, Rome said, was that "we're not going to talk to the Americans."
Zarif said in a late May interview with CNN that Iran
will not speak with the US
until it shows Tehran "respect" by honoring its commitments under the 2015 nuclear deal. Trump pulled the US out of that pact in 2018.
Iran's second message, Rome said, is that "your exports and everybody else's exports are going to be threatened if we are not going to be able to sell our oil."
Saudi Arabian Minister of Energy Khalid al-Falih said the Kingdom is monitoring the attack" with great concern", describing the incident as a "terrorist attack," according to the Saudi Press Agency, a state media organization.
Al-Falih said Saudi Arabia would take "all the measures it deems necessary" to protect its ports and territorial waters, called upon the international community to help protect global maritime navigation and said it remains committed to maintaining a reliable oil supply in global markets, SPA said.
Speaking to CNN's Wolf Blitzer on "The Situation Room" Thursday, Saudi Minister of State Adel al-Jubeir said his country had "no reason to disagree with the secretary of state."
When pressed for evidence, Jubeir said he believed "the investigations will continue and the evidence will be made available to the world."
"The US has gone to the (United Nations) Security Council to make its case. And I think once this is concluded, it will become very obvious," he said.
However, no evidence was publicly presented following that UN Security Council session. Kuwait's UN Ambassador Mansour al-Otaibi, speaking to the press after the meeting on Thursday afternoon, said they "didn't discuss any evidence."
"Today was just preliminary discussions about what happened and upon the request by the US," he said, adding that he "didn't want to comment" on whether he had seen evidence linking Iran to the attacks. He said they would like to see an "impartial, thorough investigation."
More Navy ships
The ships struck Thursday — one carrying oil and the other transporting a cargo of chemicals — were hit in international waters near the strategically important Strait of Hormuz. All crew members were evacuated and were safe, according to the owners of the two ships.
The vessels were hit "at or below the waterline, in close proximity to the engine room," said the International Association of Independent Tanker Owners, which added that the attacks "appeared to be well-planned and coordinated."
A US Navy crew on the USS Bainbridge reported that they saw an unexploded limpet mine on the side of one of the ships, according to a US defense official familiar with the matter. A limpet mine is a type of mine attached to the hull using magnets and was used in the May attacks.
More US Navy ships are expected to head to the area in the coming hours for security, patrolling, helping mariners get back to port and potentially assist in arranging for tankers to be towed to port, the source said.
On Thursday evening, Lt. Col. Earl Brown, a US Central Command spokesman, said the "USS Bainbridge remains in close contact with the M/V Kokuka Courageous and is the on-scene U.S. command authority."
"No interference with USS Bainbridge, or its mission, will be tolerated," he said in a statement.
Limpet mines were also suspected to have been used in the May attack on four oil tankers off the coast of the United Arab Emirates. The UAE, a regional rival of Iran's, said it concluded that a "state actor" is the most likely culprit. It found that chemical analysis of the debris recovered in May revealed "it was highly likely that limpet mines were deployed."
In Thursday's attack, the Norwegian Maritime Agency said that three explosions were reported on board the Marshall Islands-flagged Front Altair oil tanker, which is owned by the Bermuda-based Norwegian company Frontline. The company said that a fire broke out after an explosion and that the cause of the blast was unclear.
A second vessel, the Japanese-owned chemical tanker Kokura Courageous, was attacked twice "with some sort of shell" around 6 a.m. local time (10 p.m. ET Wednesday), the ship's co-manager Michio Yuube said.
'Sabotage attack'
All 21 Philippine crew members were evacuated Yuube added. The ship's Singapore-based management company, BSM, said that a sailor had been injured and that the vessel had suffered damage to its hull.
In May, four oil tankers were attacked off the coast of the United Arab Emirates, near the strategic Fujairah port, in what the UAE described as a "sabotage attack."
At the time, Bolton told reporters that "I think it is clear these (attacks) were naval mines almost certainly from Iran," Bolton told reporters during a visit to Abu Dhabi in late May.
Tehran denied any involvement.
Read more: https://www.cnn.com/2019/06/13/politics/iran-us-tankers-pompeo/index.html