Goals from Gonzalo Higuan and Jorginho took Chelsea to a 2-1 victory over Fulham at Craven Cottage after Calum Chambers had equalised for the hosts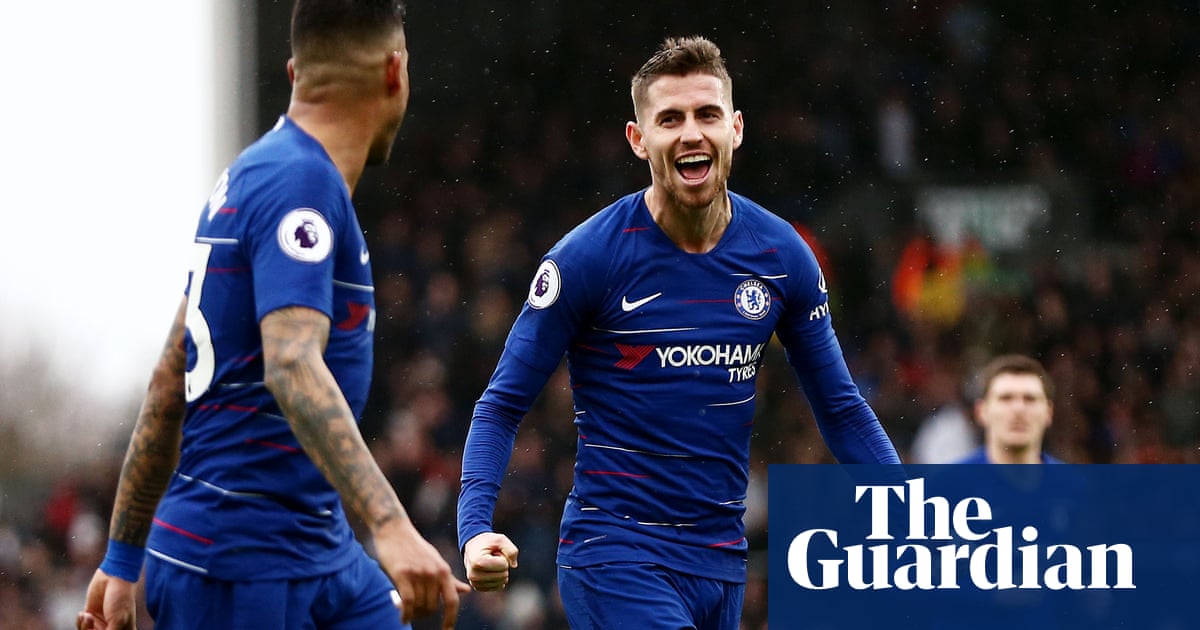 Unlikely as it would have seemed straight after Kepa Arrizabalagas ill-judged histrionics and the deflation of Chelseas penalty shoot-out defeat at Wembley, this has ended up a restorative week for the club. A second derby victory in quick succession, ground out against opponents who rallied late on, has moved Maurizio Sarris side back to within two points of the top four and only five off Tottenham Hotspur with a game in hand to fuel hope. It looks like a four-club scramble for two Champions League places.
More significantly, perhaps, there are signs of acceptance again from what had only recently been a mutinous support. Ten days after Jorginho, the personification of Sarris regime, was booed on to the pitch by his own clubs fans he was serenaded more positively by those in the Putney End after his most impressive, progressive and incisive display in weeks, albeit against a Fulham side who had opted against employing a man-marker to snap at his every touch of the ball. Sarri, too, managed a smile and a wave as he departed at the end with Arrizabalaga, on whom Chelsea had relied late on, a figure forgiven.
It had been far from easy for the goalkeepers here, in a swirling wind and constant drizzle, with Arrizabalaga unsettled at his first real involvement, dropping Kevin McDonalds centre in the six-yard area, yet recovering to smother the loose ball before Ryan Babel could react. But by the time Floyd Ayit was wriggling beyond Antonio Rdiger to hook over an inviting centre two minutes from time, the 24-year-olds poise had returned. The cross was met with a slap from Aleksandar Mitrovics forehead only for Arrizabalaga to leap to his left and push away the Serbians effort at full stretch, preserve a vital win in the process.
The Spaniard had learned of his recall in the teams technical meeting only two hours before kick-off, and Sarri suggested post-match that others might have been cast aside for far longer had they committed a similar offence to the goalkeepers at Wembley. There was another way [to react]: to put him out of the squad for the rest of the season, the Italian said. I could have killed him. But, considering the man, that was not an option. I know him very well and spoke with him during this week and he understood. His behaviour during the week and reaction today were really very good. He is very clever, with a very good mentality. He just made a big mistake.
Chelsea had leaned on him heavily in that last half-hour, when the weeks exertions both physical and mental rather overwhelmed them, with players suddenly leggy and in full-scale retreat. Fulham swarmed all over them in that period and should take heart from the personality and quality they demonstrated in that frenzied finale. As a club they, too, could look back at the events of the last few days as the moment the tide turned perhaps not in terms of this season, with their predicament more desperate by the week, but certainly when it comes to longer-term planning.
Scott Parkers appointment as caretaker manager following Claudio Ranieris departure has clearly breathed new life into Fulhams forward ranks. Tom Cairney and Ryan Sessegnon, mainstays of the team promoted last May, looked more their old selves here, as if liberated from the burden of a clubs toils, and Fulhams slippery movement and relentless running rendered what had initially seemed a comfortable Chelsea success appear distinctly precarious.
Parkers involvement should help heal some of the self-inflicted wounds this club has endured over an anticlimax of a campaign. There was a brand and identity to Fulham that everyone understood: a passing team at a lovely, family football club, he said. But have those same words come to peoples minds this season? I dont think so. I wanted to bring the fans back and I feel like we did today.
He had sought to free up the likes of Sessegnon, who had had the weight of the world on his shoulders, and hadnt been playing well, and the teenager was a threat once again. Parker may not be able to keep Fulham up but he should restore the faith at the club before their almost certain return to the Championship.
Their only reward here briefly restored parity, an unmarked Calum Chambers volleying in as Chelsea dawdled at a short corner, though the visitors should have established an unassailable lead back when they boasted energy and invention in their approach. Gonzalo Higuan might have had a hat-trick before the interval, the Argentinian benefiting from Jorginhos subtle delivery and the pace and incision of runners down either flank. It had been his emphatic finish from Csar Azpilicuetas centre, which put the visitors ahead and registered their first away league goal of the calendar year.
Sergio Rico denied Higuan and Eden Hazard before, moments after Chambers goal, the Belgian cut into the penalty area and, rather than shooting, slid a pass to an untracked Jorginho on the edge of the penalty area. The Italy midfielders finish was pinpoint and precise, whipped into the top corner. Its not been easy for him this season, Sarri said. The same could apply to the coach himself, as well as Fulham. This was an occasion from which everyone could pluck a positive.
Read more: https://www.theguardian.com/football/2019/mar/03/fulham-chelsea-premier-league-match-report