Drew Brees passed for 265 yards and a touchdown, scored on a quarterback keeper, and the New Orleans Saints overcame several big plays by Seattle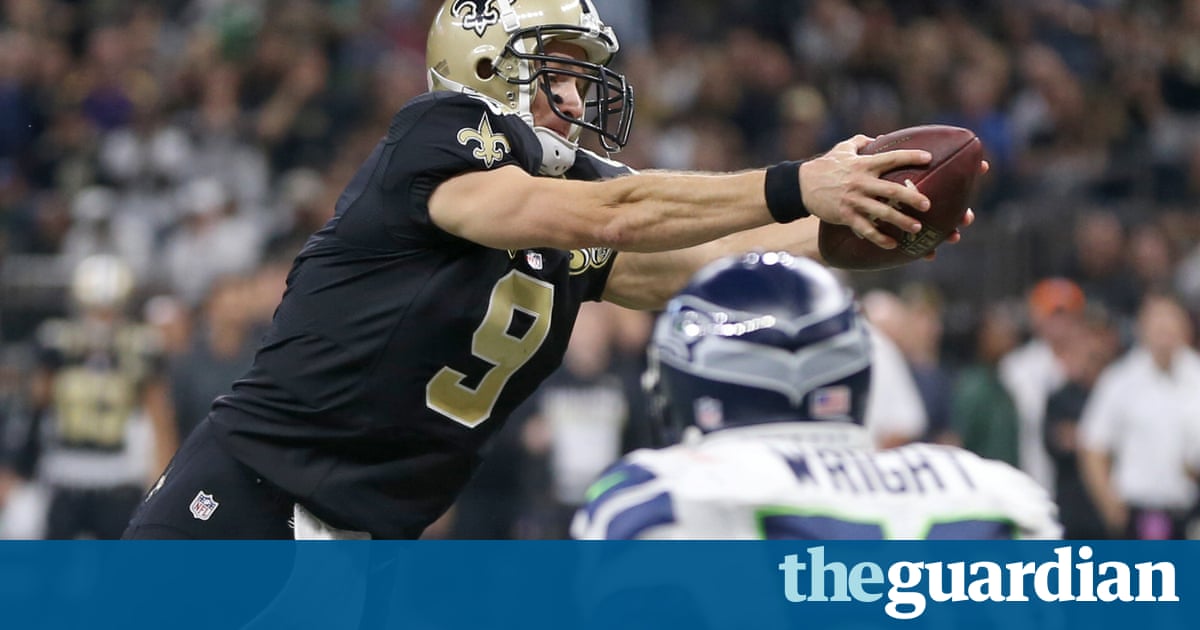 Drew Brees passed for 265 yards and a touchdown, scored on a quarterback keeper, and the New Orleans Saints overcame several big plays by Seattle to defeat the Seahawks 25-20.
The victory wasnt assured until the New Orleans much-maligned defense, which entered the game ranked 29th in the NFL, came up with a stop on Seattles final drive, which started on the Seattle 32 with 1:50 left. Wilson took the Seahawks to the New Orleans 10, where he had one final play. He lofted a pass toward the corner of the end zone, where Jermaine Kearse caught the ball, but landed out of bounds.
Wilson finished with 253 yards passing and was intercepted once by linebacker Nathan Stupar a play that set up the Saints first TD on Brees one-yard dive over a pile of players. Brees lone touchdown pass went to Brandin Cooks on a 2-yard slant , which gave the Saints the lead for good early in the fourth quarter.
Wil Lutz kicked field goals of 22, 53, 21 and 41 yards for the Saints (3-4), the latter coming with under two minutes left to put Seattle down by more than a field goal.
New England Patriots 41-25 Buffalo Bills
Patriots quarterback Tom Brady asserted his on-field ownership of the Buffalo Bills again, matching an NFL record in beating them for the 26th time.
Brady went 22 of 33 for 315 yards and threw four touchdowns in leading New England to a 41-25 win. He improved to 26-3 against Buffalo , and matched a record set by Brett Favre, who went 26-9 against Detroit.
The Patriots (7-1) have won four straight since Brady returned after opening the season serving the NFLs four-game Deflategate suspension. His absence included New Englands only blemish, a 16-0 home loss to Buffalo on Oct. 2, the first time the Patriots were shut out at home since 1993.
After a Bills field goal, Brady threw touchdowns passes on his first two drives. They included a 53-yarder to former Bills receiver Chris Hogan, who beat cornerback Stephon Gilmore up the left sideline.
The Patriots then broke the game open by scoring 27 points over five consecutive possessions. The surge began with Bradys 53-yard pass to Rob Gronkowski with 4:18 left in the second quarter, and ended when Brady took a seat and was replaced by backup Jimmy Garoppolo with 4:29 left.
Arizona Cardinals 20-30 Carolina Panthers
Jonathan Stewart ran for 95 yards and two touchdowns, Thomas Davis returned a fumble 46 yards for a score and the Carolina Panthers snapped a four-game losing streak with a 30-20 victory over the Arizona Cardinals.
In a game reminiscent of last seasons NFC championship, a 49-15 Carolina victory, the Panthers jumped to a 24-0 lead and kept the pressure on Carson Palmer all day.
Carolina, which has struggled to generate a pass rush all season, sacked Palmer eight times three of those by Star Lotulelei and forced two turnovers. The Panthers also limited running back David Johnson to 24 yards rushing.
Forced into a one-dimensional game, Palmer finished 35 of 46 for 363 yards with three touchdowns, two to JJ Nelson. After losing their last two games on last-second field goals, the Panthers left no doubt about this one.
Kansas City Chiefs 30-14 Indianapolis Colts
Nick Foles threw two touchdown passes in relief of the injured Alex Smith to help the Kansas City Chiefs hold off Indianapolis. It was a rough game for the Chiefs, who lost Smith twice after hits to the head and finished the game with Charcandrick West as their only healthy running back.
Smith was checked for a concussion in the first half and cleared to return, which he did in the second quarter. He left again early in the third quarter after Clayton Geathers shoved Smiths head to the turf as the quarterback tried to slide underneath the tackle. Smith was then diagnosed with a concussion and did not return.
Somehow, both quarterbacks kept the Chiefs offense in sync. Foles 14-yard TD pass to Travis Kelce early in the second quarter made it 10-0. Smith made it 17-7 at halftime with a 13-yard TD pass to Jeremy Maclin, and after Smiths second departure, Foles hooked up with Tyreek Hill on a 34-yard scoring pass for a 24-7 lead.
This time, the Chiefs (5-2) prevented Andrew Luck from pulling off another comeback similar to the previous time these teams met in January 2014. Luck has three come-from-behind wins this season and tried to deliver another one Sunday. but never got close enough to make it a serious threat.
Foles was 16 of 22 for 223 yards with no interceptions. Luck finished 19 of 35 with 210 yards, two touchdowns, one interception and one fumble lost for the Colts (3-5).
New York Jets 31-28 Cleveland Browns
Matt Forte ran for 82 yards and a pair of second-half touchdowns, helping the New York Jets rally past the still winless Cleveland Browns.
Ryan Fitzpatrick shook off an ugly first half to throw for 222 yards and a touchdown while leading the Jets (3-5) on three long scoring drives after spotting the Browns (0-8) a 13-point lead.
Josh McCown passed for 341 yards with two touchdowns to Andrew Hawkins and two interceptions in his return to the lineup from a fractured collarbone. Terrelle Pryor caught six passes for 101 yards, but couldnt keep Cleveland from its worst start since the 1975 team dropped its first nine games.
The Browns have lost 11 straight overall dating to Week 14 of last season and are 3-26 over their last 29. Cleveland blew a halftime advantage for the third time during the streak. This one might have been the most improbable.
The Jets managed all of 106 yards while getting thoroughly outplayed in the first half. New York trailed 20-7 at the break as Fitzpatrick completed just three of 14 passes while McCown and Pryor repeatedly went after New York cornerback Darrelle Revis. Faced with the prospect of an embarrassing loss, the Jets responded emphatically.
Fitzpatrick, who complained the team had lost faith in him when they benched the veteran in favor of Geno Smith after Week 7, put together consecutive touchdown drives of 78, 84 and 81 yards. His 24-yard hookup with Quincy Enunwa brought the Jets within 20-14. Fitzpatrick hit Enunwa again for a 57-yard gain on New Yorks next possession, one that ended with Forte bulling over from 4 yards out on fourth-and-goal. Fortes second touchdown, a bullish 2-yard blast, ended a 13-play, 81-yard march that gave the Jets firm control.
Detroit Lions 13-20 Houston Texans
Brock Osweiler bounced back from an ugly performance by throwing for 186 yards and a touchdown to help the Houston Texans remain perfect at home this season with a 20-13 win over the Detroit Lions.
The Texans (5-3) have lost all of their road games, including a 27-9 loss to Denver on Monday, but theyve had no such trouble in Houston where theyre 5-0 this season.
Osweiler has struggled in his first season in Houston, but has been better at home where hes thrown eight of his nine touchdown passes. On Sunday, he gave the Texans a 7-0 lead on a 6-yard touchdown pass to CJ Fiedorowicz in the second quarter. The Texans made it 14-0 when Lamar Miller bulled his way into the end zone from a yard out later in the quarter. That score was set up when DeAndre Hopkins used one hand to make a 12-yard reception.
Read more: https://www.theguardian.com/sport/2016/oct/30/nfl-scores-seahawks-patriots-saints-bills