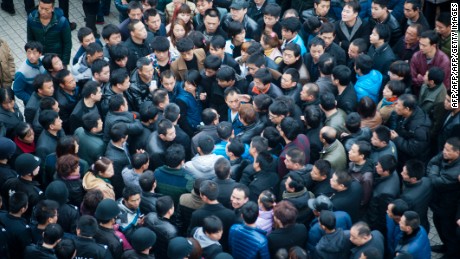 Hong Kong (CNN)China's millions of migrant workers are bearing the brunt of the country's ongoing economic slowdown as strikes and worker protests reach record levels, new statistics reveal.
According to the
most recent annual report
from China's National Bureau of Statistics, more than 2.7 million migrant workers around 1% of the total weren't paid on time last year, the highest number in five years.
In the same period, China saw more than 2,700 strikes and protests, more than double the number the year before, according to China Labor Bulletin (CLB), a Hong Kong-based rights monitor.
As the country marks International Workers' Day on May 1, the number of strikes and protests this year has already passed a thousand, and looks set to climb much higher. The government has announced plans to
cut more than 1.8 million jobs
in state-run coal and steel industries.
Invisible workers
Stories in the book include that of A'ju, a migrant worker in Guangdong province who took part in her first strike when she was just 17-years-old and went on to lead protests and walkouts over unfair dismissals.
"The most important thing was solidarity," she told the interviewer, adding that a significant factor in the protests was the young age of the workers, most of whom had no pressure from their families and were far more willing to stand up for their rights than older generations.
Another migrant worker, Xiaobei, led a successful mass strike at a factory in Shenzhen, after management cut overtime and slashed benefits in the run up to the Lunar New Year.
The impact of the strike was such that it even inspired neighboring factories to take their own action.
Reflecting on the strike, Xiaobei told the interviewer that "if we had gone on strike earlier, the boss would have raised our wages ages ago."
According to Friedman, understanding why Chinese workers, especially migrant workers, strike and protest is "something really important for understanding not just labor relations but political stability more broadly."
Read more: http://www.cnn.com/2016/04/30/asia/china-on-strike-worker-protests/index.html