Post-Rooney era starts with a win as Manchester United beat LA Galaxy 5-2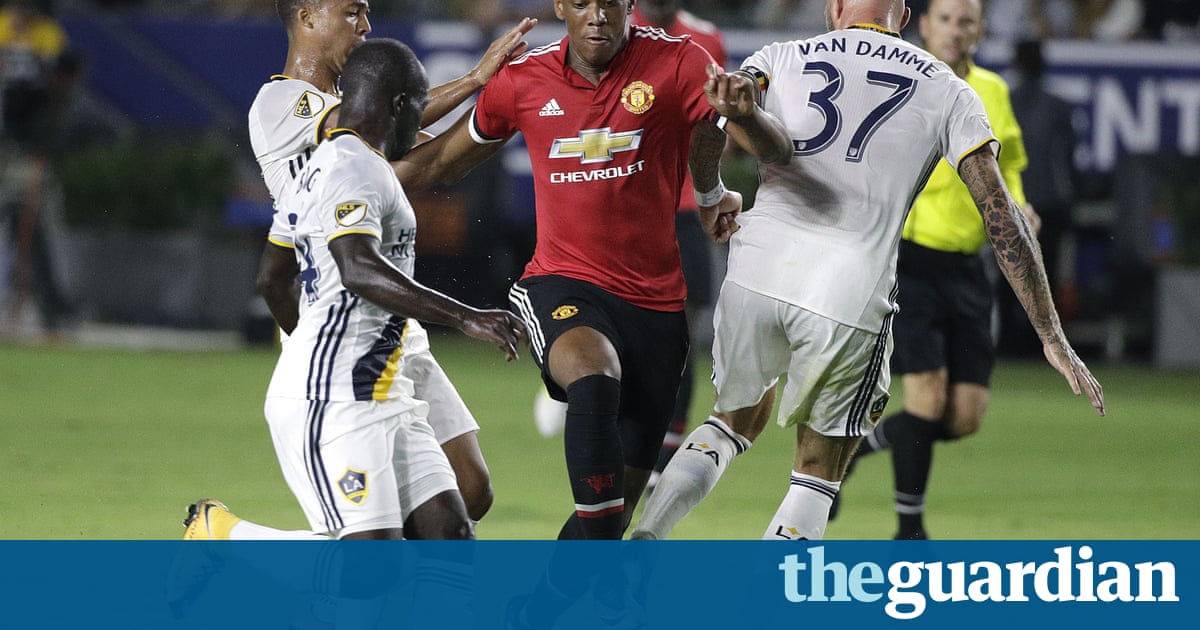 After this stroll of a victory Jose Mourinho became the latest Manchester United manager to rule out a move for Real Madrids Cristiano Ronaldo.
Mission impossible was how the Portuguese billed it. We have never thought about it because he is such an important player for his club, of great economic power. I am not a defender of my club once you waste time on players who are mission impossible, he said, and so United fans will have to put on hold their dreams of a romantic return of a player they still adore again.
Of Reals Alvaro Morata, who Mourinho has targeted, the manager said: It is a question for Florentino [Perez, Real president]. He belongs to Madrid. Madrid has decided and we have not come to an agreement. It is simple. It is a shame. It is a player who made it to the first team with me [when he managed Real]. We have a special liking for [him], he is someone special. I enjoyed watching his evolution in Juventus and Madrid. It is like that. I dont think he can end with us.
Uniteds new No9 did not register yet did not appear out of place against a particularly poor LA Galaxy outfit. Mourinho said: A good thing for me today is he [showed] hes a team player and was not worried about himself. He was worried about the improvement of the team. He didnt score goals, but he played better than the ones who did score goals.
Mourinho confirmed the three centre-backs shape is not next terms default formation but will he deployed occasionally, and said there is no official deputy to new captain, Michael Carrick.
We dont have a vice captain, a captain is enough, Michael is obviously the captain, he said. I dont like the criteria that the captain is to be the one with the most time in the club because sometimes you have somebody with the armband just because he arrived before other players. We are going to try and feel, and make decisions, we have people that step by step we have to prepare because Michael will be the captain for one year, maybe two if he decides to do that and his body resists the demands of the Premier League and Champions League. But for the season only one captain.
Manchester Uniteds post-Wayne Rooney era began with Jose Mourinho fielding a rarely deployed 3-5-1-1 and the 75m man Romelu Lukaku waiting until the second half for his debut. Uniteds No9 did not register but he did not look out of place in his new team against a particularly poor LA Galaxy outfit.
Before kick-off Mourinho confirmed the three centre-backs shape is not next terms default formation but one he will use occasionally.
In front of a watching David Beckham who gave this friendly a touch of glitter, Uniteds first outing since Rooney left for Everton and the Europa League was claimed in late-May began perfectly.
Now captained by Michael Carrick, less than three minutes were gone when United shifted gear. Jesse Lingard, the left wing-back, forced the ball into Marcus Rashfords path. The No19 cantered forward and rolled beyond Jon Kempin, and that was 1-0.
These pre-season affairs often feature mistakes caused by ring-rust. Marouane Fellaini offered an illustration following Rashfords opener. The midfielders errant touch handed the ball to Bradford Jamieson IV and United were lucky to escape.
Juan Mata performed a sweet pivot-and-shot that Kempin saved well to his left and this was about all the action until Rashford doubled his tally and Uniteds lead.
Ander Herrera pick-pocketed possession and played the ball to Mata. He recycled this on to the 19-year-old and the finish, from the right, was accomplished.
Three years ago the Louis van Gaal vintage gave Galaxy a 7-0 smacking in Pasadena. When Fellaini banged a left-foot strike in from a clever Lingard cut-back it was 3-0 and the MLS franchise were staring at a similar trouncing.
The lead was a cushion that allowed United to relax and ping the ball about. This gave Galaxy the run around and will have pleased Mourinho.
He will surely have wanted a stiffer opponent, though. The American outfit showed why they are eighth in the MLS Western Conference, 10 points behind leaders, Sporting KC. During training here on Thursday every Galaxy squad-member who took part struggled to score during shooting practise. Gordon Ramsay was involved as he was filming a feature with the Galaxy left-back, Ashley Cole, and the celebrity chef appeared of equable quality to the professional players.
Mourinho kept his word and fielded a completely different XI for the second half. It meant Lukaku was on for Rashford and Victor Lindelof, the other new signing, made his United bow, too.
Moments after kick-off Lukaku missed a gilded chance to open his account for the club. Pogba pushed the ball to him but when he swivelled-then-shot Brian Rowe, on for Kempin, saved. Lukakus next contribution was better. A deft pass fed Henrikh Mkhitaryan but the Armenian failed to finish.
This is to be a fascinating upcoming campaign for Anthony Martial. The Frenchman dazzled two years ago and faded last season. He frustrates Mourinho as the Portuguese sees a player with a high-end talent who struggles to harness it consistently. The way Martial roved forward just before the hour and caressed a 35-yard effort that went close and hit the roof of Rowes net signalled his quality.
Mkhitaryans goal on 66 minutes teemed class, too. United attacked at will, and during this foray, Martial ran at the Galaxy rear-guard, switched the ball inside, and the No22 did the rest.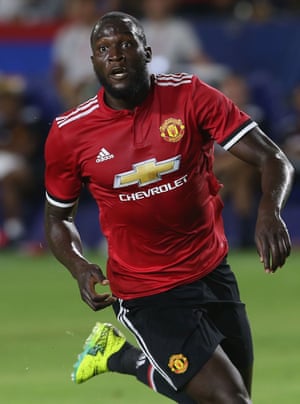 Read more: https://www.theguardian.com/football/2017/jul/16/romelu-lukaku-makes-debut-as-manchester-united-see-off-la-galaxy