He's precious, Kim Kardashian West!
On Wednesday on Instagram, the KUWTK star shared an adorable pic of her two-month-old son, Psalm West, wearing a cute grey outfit.
Video: Watch Kim Kardashian Get Fitted For Her Sexy Met Gala Look!
The 38-year-old captioned the snap:
"I meannnnn my baby Psalm is so sweet!!!"
After the photo was posted, aunt Kendall Jenner commented:
"what it do babbbyyyyyy"
Not to be outdone, Kimmy's older sister, Kourtney Kardashian, added:
"Little tiny goose bunny"
As we reported in May, after her fourth child was born via surrogate, Kardashian West revealed his name, and shared his first photo — of him in a crib.
However, after analyzing the pic, some social media users believed the mother was putting the little one at risk of sudden infant death syndrome (SIDS) because of his "very dangerous" sleeping conditions.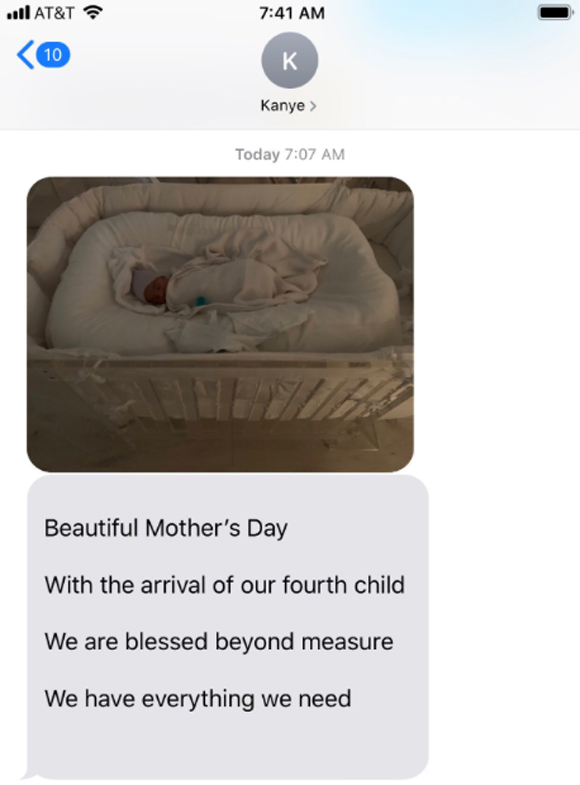 One Twitter user — who claimed to be an ER doctor — worried about the amount of "padding, bumpers, and blankets" surrounding the newborn, writing:
"Please please please go pay an overpriced 'sleep consultant' to get all that unnecessary padding, bumpers, and blankets out of your child's crib so they are not at risk for SIDS. I've tried and failed to resuscitate too many children that have died this way. Signed, An ER doctor"
Dr. Jen Trachtenberg, a reported pediatrician, added:
"Congrats on your adorable baby. As a pediatrician I just want parents to know the best way to reduce the risk of SIDS is to sleep on back, use firm crib mattress — no added blankets, pillows, bumpers, soft bedding, sleep positioners, plush toys. As a huge social media influencer, @KimKardashian so many people follow you and it can be confusing when seeing these adorable baby images and then may think it's safe to do for their own baby"
Others penned:
"There are too many blankets, clothing and bumpers in that crib! Very dangerous for baby"

"Please follow safe sleep habits. It can reduce the risk of SIDS. Everything about this picture causes me anxiety"

"Newborns should not be sleeping with a cushion like that and those blankets… please learn about SIDS, you are wealthy enough. I don't even have or want kids and I hear about this topic a lot from friends"
According to a People report published in May, a source said the KKW Beauty mogul was "aware" of the criticism she received, explaining:
"Kim is aware that she got negative comments about the photo of Psalm."
However, the insider noted the pic in question was very much "staged," divulging:
"It was a split-second, staged photo… As a mother of four, she very much knows how to keep her newborn safe in the crib. Again, it was staged for a photo."
[Image via Kim Kardashian/Instagram.]
Read more: https://perezhilton.com/kim-kardashian-psalm-west-smile/