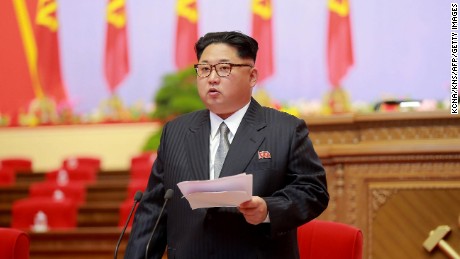 Seoul, South Korea (CNN)North Korean leader Kim Jong Un said the country would not use a nuclear weapon unless its sovereignty is encroached by "invasive hostile forces with nuclear weapons," according to the country's state news agency KCNA.
He made the remarks Saturday at the ruling Workers' Party of Korea's Seventh Congress in Pyongyang, which began the day before.
Kim also reportedly said North Korea will faithfully fulfill its nuclear nonproliferation obligations and make an effort to realize global denuclearization.
Kim also said during his opening remarks that the congress would review the party's "brilliant successes" and put together tasks to "keep ushering in a great golden age of socialist construction."
The country's provocative nuclear stance has triggered some of the harshest U.N. sanctions imposed against North Korea and irritated his most powerful ally, China.
The sole remaining symbol of cooperation with South Korea — the Kaesong Industrial Complex near the demilitarized zone — has also shut down during his tenure.
No Chinese officials were invited to the party congress, according to Chinese state media.
Kim appears determined to project the image of self-reliance as his impoverished country defies international condemnation by chasing its nuclear ambitions.
At the same time, Kim has promised to take measures to improve the living standards of North Koreans, the other element of his two-prong, so-called "Byongjin" policy of economic and nuclear advancement.
To outside observers, the two goals seem contradictory and implausible.
The congress is the first in the country for 36 years. Friday saw around 3,000 party members and more than 100 international media outlets pour in for this once-in-a-generation political gathering, officials told CNN.
Details of the gathering had been kept secret from the foreign press and the North Korean public until a Friday evening news bulletin.
The previous one, in 1980, marked the naming of Kim's father, Kim Jong Il, as successor to his own father, North Korea's founder Kim Il Sung, as leader of the reclusive nation.
Read more: http://www.cnn.com/2016/05/07/asia/north-korea-nuclear-use-sovereignty/index.html