The Prime Ministers refugee-friendly branding has veiled Canadas fortress policies that are in urgent need of overhaul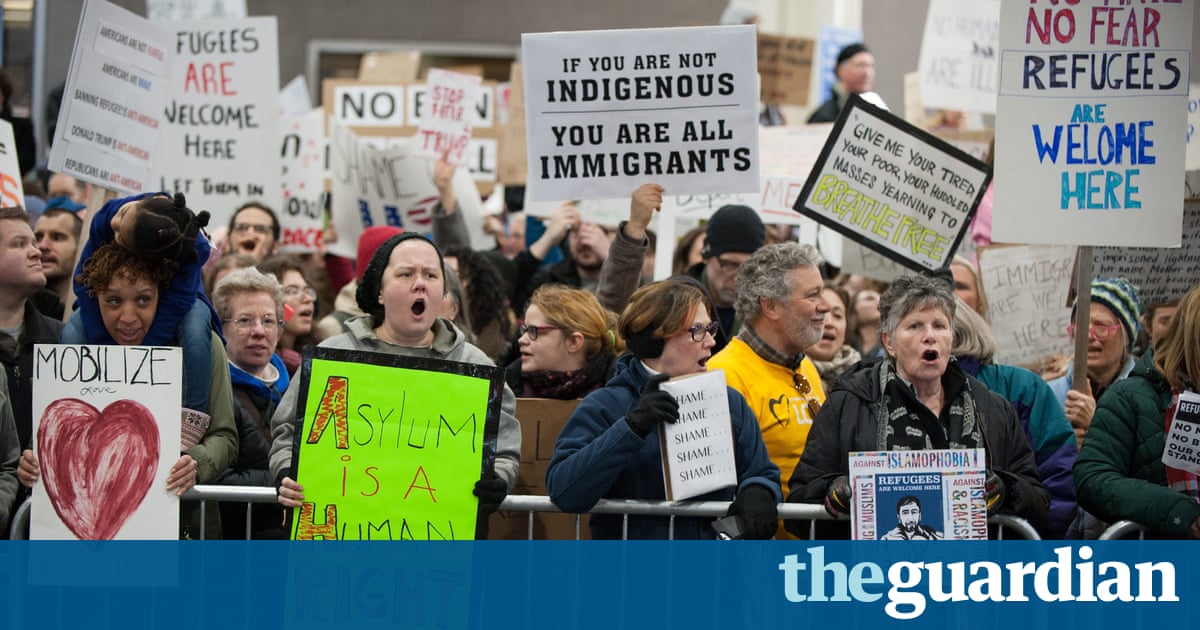 It was a tweet heard around the world: Canadian Prime Minister Justin Trudeaus rejoinder to Donald Trumps repugnant Muslim travel ban that has sparked outrage around the world. To those fleeing persecution, terror & war, Canadians will welcome you, regardless of your faith, Trudeau tweeted on Saturday. Diversity is our strength. #WelcometoCanada.
While Trump has immediately stoked reactionary chaos, Trudeau has always struck the progressive posture. With fuzzy memes and messaging and photo-ops of him hugging refugees and his predictably popular latest tweet Canadas Liberal party has painted themselves as a welcoming government in a sea of rising intolerance. Praise from the international political and media class has flowed.
Trumps attack on refugees, and yesterdays murderous assault on a Quebec city mosque by a racist white nationalist, should indeed focus Trudeaus mind. But before we continue the bout of self-congratulation, lets get a few things straight. Start with the fact that, despite the horror unfolding south of the border, his government refused yesterday to commit to raising the countrys refugee intake: asked to clarify Trudeaus twitter-diplomacy, the Immigration Minister stated that they were already doing our part.
What exactly is our part? Just last month, the government quietly capped applications for private sponsorship of refugees from war-torn Syria and Iraqafter families and community groups brought in nearly 14,000 last year. The number now accepted? A mere one thousand. In other words, many desperate and endangered people will not be able to come to Canada, despite there being groups ready to welcome and host them. Sparkling in his symbolism, Trudeau has been desultory in his deeds.
Despite the optics, Canada has hardly been a leader in openness among countries. The number of refugees it accepted last year totalled 38,000ranking us a laggardly 20th, judged per capita, among industrialized countries. And of those refugees, nearly half were privately sponsored by citizens, not the government itself. Trudeau has outsourced his responsibility to ordinary people, but has not been shy to claim the benefits to his image.
As Trumps administration now unleashes a racist anti-immigrant agenda that will involve not just travel bans by massive surveillance and deportations, there is another crucial way that Canada could open the doors to endangered peoplebut is currently, under Trudeau, barring many of them. If an asylum seeker now in the United States showed up at the Canadian border tomorrow, they would not be welcomed: they might be turned away. Hard to square with Trudeaus tweet, isnt it?
Thats because Canadaunder a so-called Safe Third Country agreement established by a previous Liberal government in 2004doesnt accept asylum seekers who come to Canada via the US. If someone fleeing war or persecution lands first in the United States deemed a safe country, a notion now dramatically unapt they are barred from seeking refuge in Canada.
There were already instances of people risking their lives to cross the border to Canada. And now life for poor, racialized and Muslim people in the United States has gotten a whole lot more dangerous. But Trudeau has not shown any inclination to repeal this agreement and allow people to find safety in Canada: a petition with growing numbers demands he now urgently do so.
Trudeau appears to be very good at saying exactly the right thing, at the opportune media momentthen doing very little to accompany it with meaningful action. If only virality could induce reality.
Those many desperate people who have had their hopes raised by media coverage of Trudeaus proclamations should be warned: dont expect an embrace at the airport. Expect detention or deportation. And beyond the border, not stuffed animals but stuffed suits from Canadas security or spy agencies.
Far from being a genuine haven for refugees, Canada under Trudeau has continued policies dating back to the odious Conservative government of Stephen Harper or well before that make life for refugees fleeing to this country exceedingly difficult and dangerous.
Anyone deemed an irregular arrival to the country as desperate people are bound to be are immediately jailed. Several thousand people every year in Canada including hundreds of children wallow in indefinite detention in facilities or maximum security provincial prisons. As if fleeing persecution were a crime.
Hunger strikes to protest conditions have been a regular occurrence: but instead of acceding to demands, the government has deported key strike organizers. These policies have been condemned by the United Nationsnot the kind of international attention that Trudeau is used to.
And far out of the sight of ordinary Canadians, a bureaucratic machine operated by security officials has ripped apart families and deported, often to lethal situations, a staggering number of attempted refugees: 100,000 people in the last ten years.
These policies are presided over by Trudeau with none of Trumps venom, but the result is still exclusion, suffering and heartbreak. This is not the violence of overt hate. It is the violence of empty gestures.
We must demand so much more. For so long, the right-wing has been doing exactly that. Demagogic politicians in Canada have stoked anti-Muslim and anti-refugee sentiments with extreme proposals for a barbaric cultural practices hotline or screenings for anti-Canadian values. This sowed the seeds for a gunmens rampage on a mosque. It also meant that even when the right-wing lost particular policy goals – as Trump already appears to be on aspects of his Muslim ban they still won another way: they dragged the political climate further to the right, transforming what is considered acceptable and possible.
It is time for progressive movements to match right-wing assertiveness, but in the service of compassion and solidarity. Pretty words will not suffice: we must demand significant policy changes and a firm rejection of anti-Muslim ideologyincluding Trudeau outright condemning Trumps policies. Undocumented residents in Canada should be granted permanent status and live without fear of mass detention and deportation; and borders should be opened to those refused asylum in the United States and others living in danger elsewhere.
Inspiring rallies at airports across the United States over the weekend were followed today by protests in Canada surrounding US consulates and embassies in Ottawa, Montreal and Toronto. People are flooding their MPs with messages, and demands are growing louder. Canada can become a refuge to the persecutedbut what were seeing right now is still window-dressing.
Twitter: @Martin_Lukacs
Read more: https://www.theguardian.com/environment/true-north/2017/jan/30/justin-trudeaus-tweets-wont-make-canada-a-refugee-havenbut-popular-pressure-can