Liverpools manager insists his focus is on Manchester Citys players not the man in the dugout as the old foes rekindle their Bundesliga rivalry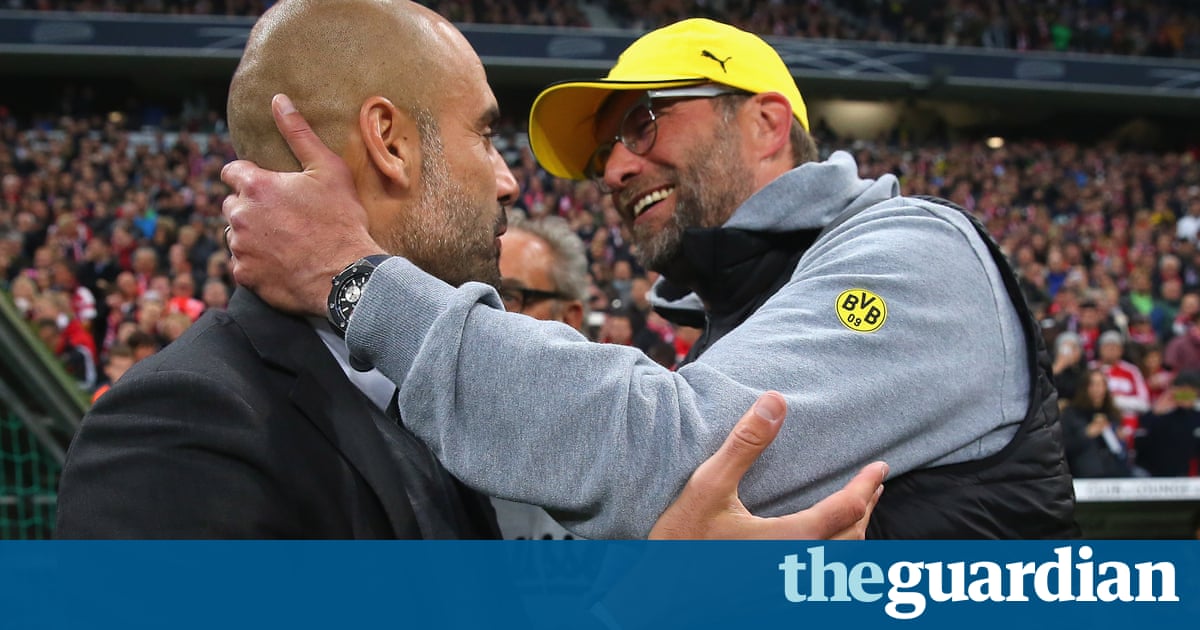 Allianz Arena, April 2015, and at the end of their last competitive encounter Jrgen Klopp sprinted past Pep Guardiola to join the celebrations rather than offer commiserations or a handshake. It was nothing personal, simply a release in a draining final season at Borussia Dortmund and one last shot across the bows of Bayern Munich. Klopps admiration for Guardiola is genuine, his anticipation for their reunion clear and heightened, but what matters most to the Liverpool manager is that his team meet Manchester City on New Years Eve on equal terms. This seasons Premier League has levelled their playing field.
Footage of Klopps wild, or just characteristic, reaction to Dortmunds victory in the 2015 German Cup semi-final went viral and encouraged the contrasting image between the two coaching heavyweights of the Bundesliga the besuited Guardiola, king of controlled possession, looking on bemused as the counterpressing Klopp rushed by in a blur of yellow baseball cap and grey hoodie.
It followed a farcical penalty shootout between their former clubs, featuring Philipp Lahm and Xabi Alonso slipping and missing Bayerns first two penalties and Manuel Neuer smacking their last against the crossbar as Dortmund prevailed 2-0 (they would lose the final to Wolfsburg), and there was an acknowledgement of sorts between the coaches when, long after the chaos, Klopp patted Guardiola on the back. The shootout brought them level on four wins apiece in meetings in Germany.
Their rivalry was intense and started with Klopps belief that Mario Gtze defected to Bayern in 2013 because of the former Barcelona coach. Gtze has gone because he is Guardiolas personal chosen signing and he wants to play with Guardiola, in his style, he remarked. If its anyones fault, its mine. I cant make myself 15cm shorter or start speaking Spanish. But any animosity was directed at Bayern and the financial imbalance that took Gtze, followed a year later by Robert Lewandowski, to Bavaria, prompting that famous Klopp line about Bayern being the Chinese of the business world: They look at what others are doing and copy it, just with more money. It was not about beating Guardiola then or now, insists Klopp. It was, and is, about competing and winning.
We never thought in these categories, the Liverpool manager said this week when asked about the financial disparities between Bayern and Dortmund. It was how it was and we were used to it. Its not that we feel that we are now on one level because Im not interested in it. What I am interested in is that this team is in a good way and we like how our football is, and we have to prove it every few days. That is what we try to do for Saturday.
Its really interesting. I know people are excited when they think about it. There is nothing to do apart from prepare the party for afterwards while everyone watches the television. The good news is that we are involved. Its not City v someone else, its Liverpool v Man City. We are some kind of a challenger. We dont care about being favourite or whatever, it feels like we are always challenging in each game and have to prove it, and now we have to make the people happy again. Its possible. Thats how it is.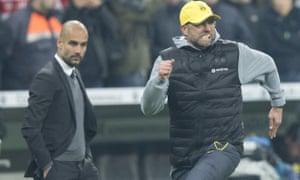 Read more: https://www.theguardian.com/football/2016/dec/30/jurgen-klopp-liverpool-pep-guardiola-manchester-city