Jos Mourinho accused the Chelsea manager, Antonio Conte of trying to humiliate him after Manchester Uniteds 4-0 defeat at Stamford Bridge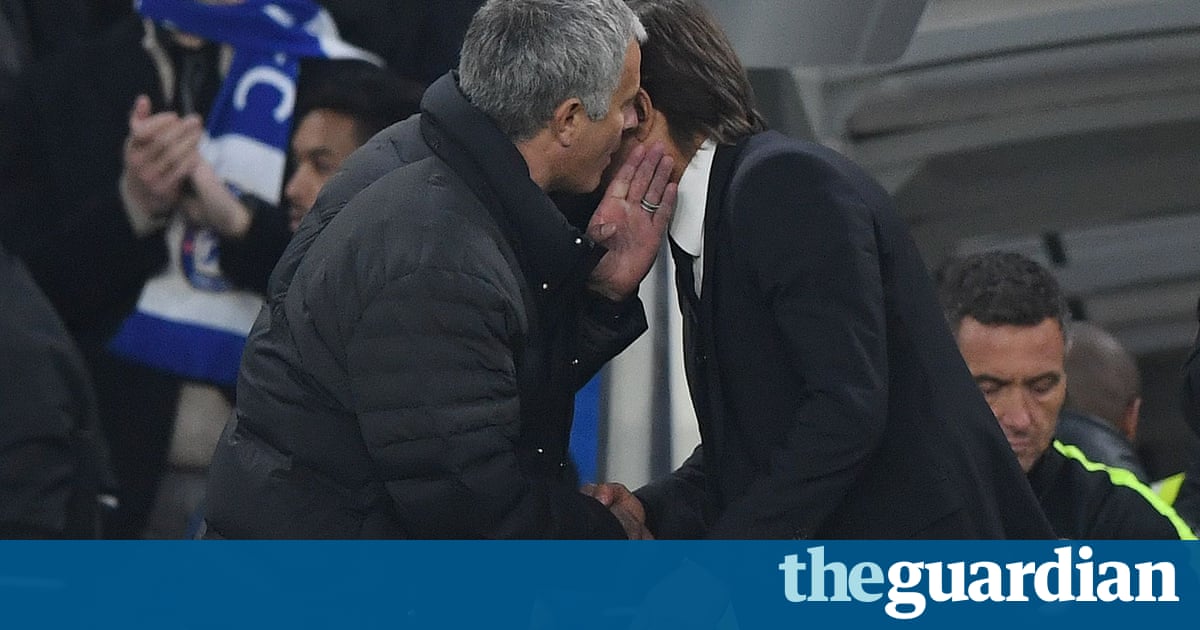 Jos Mourinho accused Antonio Conte of trying to humiliate him as he endured his worst defeat in English football on his return to Chelsea, and tensions spilled over into the tunnel post-match as back-room staff members of both clubs clashed.
Manchester United conceded after just 30 seconds to Pedro Rodrguez and succumbed 4-0 at Stamford Bridge, potentially losing their centre-half Eric Bailly to a serious knee injury enroute, with Mourinho berating his teams incredible mistakes at the back. The Portuguese had been infuriated by Contes attempts to whip up the home support after NGolo Kant scored Chelseas fourth goal, and confronted his opposite number as they shook hands at the final whistle.
Mourinho, speaking in Italian, appeared to tell Conte he should behave like that at 1-0, not at 4-0, and suggested he had actually been seeking to humiliate him in front of his former fans. Conte denied that had been his motivation, explaining postmatch that he had simply been seeking to generate a positive reaction from the crowd after his teams most impressive performance to date under his stewardship. However, when a member of the United coaching staff ignored Contes outstretched hand as they turned to retreat down the tunnel, it provoked a heated argument with a member of the Italians own back-room team.
Both managers chose not to elaborate on their post-match conversation to the media, but neither denied the version of events, picked up on Italian television, when it was put to them. I think that a private conversation must remain private, Conte said. If someone discover something, OK … but for me the private conversation remains private.
I think that, today, it was right to call on our fans in a moment when I could only hear the supporters of Manchester United [singing] at 4-0. So I called the fans to give the players a great clap after this kind of performance. The players deserved that.
We live with emotions. If you want to cut the emotions, we can stay at home and I will change jobs. Its important for our fans to push in every moment of the game. When the players deserve it after this performance, its right to receive a great clap from the fans.
Mourinho had regularly called upon the crowd at Stamford Bridge to be more raucous in his second spell at the club, which ended with his dismissal in December 2015 when his ailing team were hovering a point above the relegation zone.
You know me: I spoke to Conte, not to you, the United manager said when asked about the incident. Im not the kind of guy to come here and share with you things I dont want to share. What is between me and Antonio is for us … or up to him to talk if he wants to. That is his problem. I have no comment.
United, who have not won in London for 17 months, are five points worse off after nine games than they were under Louis van Gaal last season. Im not disappointed with the performance, but with the mistakes, Mourinho said. If we could delete the defensive mistakes, the performance was good. But when my teams have perfection in their defensive performances, people say that is not important. But the reality is that it is important.
We made an incredible defensive mistake, I say incredible in capitals, in the first minute and then the game is different. It is one of those days when you give the advantage to opponents by doing nothing.
We put ourselves in a situation where we gave Chelsea the game they wanted to play: the block compact and low, as it was in the second half, and wait for the chances on the counter-attack. Football matches start at 0-0, this match started1-0. The home crowd only chorused Mourinho, who claimed three Premier League titles in his two spells at the club, once their team led by four goals.
Yet Chelseas players, who are now a point off the top of the Premier League, clearly delighted in the victory against their former manager and posted a number of photographs on social media showing the entire squad celebrating in the dressing room after the victory.
Its right to celebrate when you win, Conte said. When you work very hard and win, its important to celebrate. But I prefer to win a war, not a battle. I have already told my players that United is in the past.
Now we must be focused on Wednesday because there is another important, tough game against West Ham [in the League Cup]. Its important to celebrate this evening, but then to start to focus on another game.
Read more: https://www.theguardian.com/football/2016/oct/23/jose-mourinho-rages-manchester-united-incredible-mistakes-chelsea