Oh, come on! This is riddikulus! Once again, J.K. Rowling has tried to be an LGBT ally and just failed spectacularly. Or… has she?
Let's rewind a moment because frankly if you haven't been following this controversy, even if you've read all the Harry Potter books AND seen the Fantastic Beasts movies you won't have the slightest clue what the avada we're talking about.
And therein lies the problem.
Basically, Rowling never included any LGBT representation in her best-selling children's book series — something which frankly could have helped a lot with general awareness and acceptance of sexual diversity, considering the record-shattering number of children who grew up reading them.
After fans pointed this out J.K. came out WAY after the books were long published and revealed one of the main characters was actually gay: Headmaster Albus Dumbledore.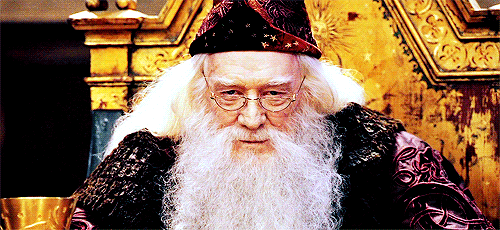 There's no indication in the books, no clues, no reason for fans to believe he was intended to be gay from the start.
That means for kids who grew up not being aware of what it means to be gay — whether due to living in oppressive environments or raised in ignorance — there was also no representation, no subtle message of, "Hey guys, some people are gay, and that's OK, too."
So it's pretty simple; this is NOT inclusion.
Then just a couple years ago it was revealed the second Fantastic Beasts movie, The Crimes Of Grindelwald, would involve young Dumbledore. At last J.K. had a chance to put her money where her mouth was.
In fact, since Rowling said he'd had a relationship with the titular Grindelwald, it was perfect — it had everything to do with the story and everything. The hero and villain being exes? That emotional dynamic was ripe with story potential.
Not to mention this Dumbledore was smokin' hot Jude Law, who'd played multiple gay characters early in his career. And Grindelwald was, well, that was Johnny Depp by this point… but we'd seen him have the ability to look like Colin Farrell so maybe that was still on the table? LOLz!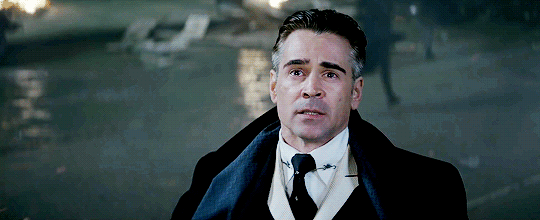 Instead there was a great big NOPE to all of it!
Director David Yates confirmed before the movie came out there would be no explicit references to homosexuality in the film.
Swing and a miss.
Fans were understandably pissed. At this point it was no longer simply writing a story that where there was nowhere to fit in representation; this was ACTIVELY AVOIDING IT.
What reason could Rowling possibly have for giving the backstory a homosectomy?
A lot of fans figured dollar signs. After all, statistically there are plenty of Potter fans who still think of all things LGBT as icky, unnatural, even EVIL — you know, the ones who would have benefited from having awesome gay role models in their literature as kids. Maybe she doesn't want to lose their money?
Well, Rowling didn't confront the controversy head on at the time, but in a featurette on the home video release of Crimes Of Grindelwald, available to purchase on March 18, she described the "intense" "sexual" "passionate" relationship:
"Their relationship was incredibly intense. It was passionate, and it was a love relationship. But as happens in any relationship, gay or straight or whatever label we want to put on it, one never knows really what the other person is feeling. You can't know, you can believe you know.

So I'm less interested in the sexual side — though I believe there is a sexual dimension to this relationship — than I am in the sense of the emotions they felt for each other, which ultimately is the most fascinating thing about all human relationships."
Uh huh.
Man, she is spinning harder than a spider under the imperius curse.
Go back and read those books, and you'll find tons of physical expressions of affection, be it passion or emotion. There may be no book series in literary history to use the word "snogging" so much. (We'd have to reread some passages from Lord Of The Rings to be sure.)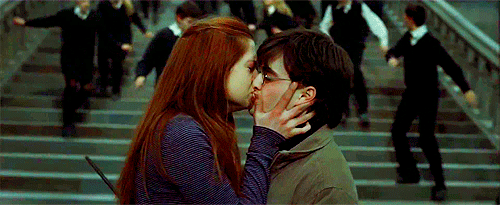 But there's suddenly no reason to show any of it, no reason to even explicitly state it happened, no reason to make people who haven't heard this supplemental material even have to face it??
When it's gay.
Don't take our word for it! See some of the best fan responses to Rowling's latest spin (below)!
J.K. Rowling Confirms Some Characters in Her Books and Movies Are Gay Everywhere Except in the Books or the Movies https://t.co/Y5gcbMWNB9

— Eric D. Snider (@EricDSnider) March 16, 2019
it's performative activism that allows her to present herself as progressive while keeping her films 'family friendly' for the bigots that would undoubtedly kick off at the presence of a gay character

— laura (@lauraw97_) March 17, 2019
Like, way to miss the point and undermine everything you COULD have done to rectify the mistake of leaving Dumbledore's orientation out of canon. This further reduces queer relationships and queer characters just to sex in media commentary. Which is the last thing we needed.

— Exorcising Emily (@exorcisingemily) March 17, 2019
imagine writing a series that deals with the way the adults you look up to can turn out to be actually Not Great People who actively harm kids with by clinging to and reinforcing problematic views and then…………deciding to be living example of that. amazing.

— Rebecca Mix (@rebeccarmix) March 17, 2019
Was having a nice lunch out with my ol' pal JK Rowling. But then she suddenly revealed I had been gay all along!
The whole restaurant stood up and clapped.
Such a brave writer.

— Inside A Mind (@InsideAMindYT) March 17, 2019
jk rowling: oh btw dumbledore is gay
everyone: oh, worm, where in the books?
jk rowling: nowhere, i just made it so
everyone: well that's bullshit
jk rowling: uh *throws darts at a board* well it's ABSOLUTELY 100% gay if he fucked for sure right
everyone, exhausted: please stop

— Klaudia Amenábar (@kaludiasays) March 17, 2019
So here's our question.
Is Rowling even an ally at all? Or is the whole thing as hollow as Godric's?
Is she just trying to politically placate both sides to keep her bank vault?
Could she really just be playing up this whole "Dumbledore is gay" backstory to get credit for being on the right side of history without ever actually crossing the battle lines??
What do YOU think, Potterezcious readers??
[Image via WENN/Warner Bros/YouTube.]
Read more: https://perezhilton.com/jk-rowling-dumbledore-gay-crimes-of-grindelwald/