A referendum on Sunday about whether to accept an EU migrant quota 1,294 refugees has unleashed some dark forces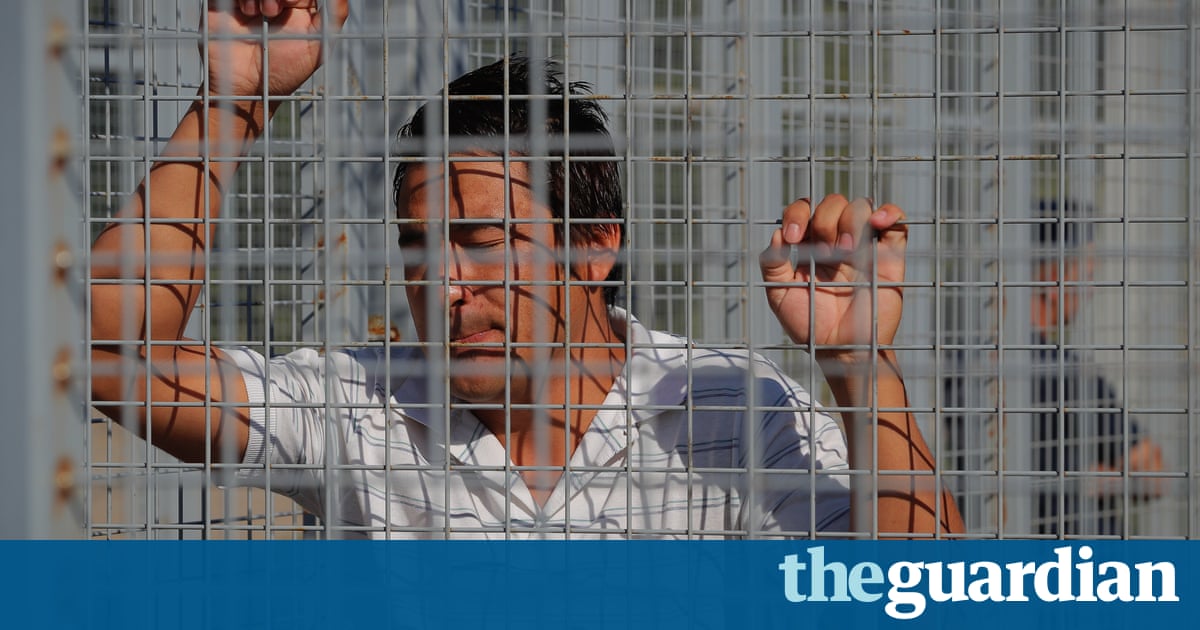 As a small crowd of pensioners gathered outside the little village hall in Mrtly, southern Hungary, all seemed calm. A horse and cart trotted past, long-bearded villagers settled into their wooden seats, and a cat mewed in the corner.
But the atmosphere changed when Jnos Lzr, one of Hungarys most powerful politicians, strolled up the street and began to speak. There are decisions that extend beyond party politics, and this is one of them, Lzr said softly to the crowd. This is something that will define the future of Hungary.
Hungarians head to the polls on Sunday for a referendum on immigration that ministers have portrayed as a make-or-break moment for the Hungarian nation, and a watershed for Europe as a whole.
The question being asked is wordy and vague, its legal consequence unclear, and its primary context seems parochial. Literally translated, it asks if immigrants should be sent to Hungary without parliaments approval. Essentially its about whether Hungary should be forced to accept just 1,294 refugees stuck in Greece and Italy as part of a responsibility-sharing system agreed by EU countries this time last year. However small the numbers involved, the ramifications of this poll on the eastern edge of the European Union could be enormous.
Within Hungary, critics argue that the referendum helps the government of Viktor Orbn to distract from its domestic failures. Outside, analysts say a strong turnout will give the prime minister, perhaps the most influential far-right leader in European electoral politics, added momentum in his battle for the soul of the continent.
A scuffle about 1,294 refugees is in fact a war over the role of the nation-state, and the nature of European democracy, argued Gerald Knaus, the director of thinktank European Stability Initiative. Its a performance thats not about results hes not worried that any refugees will end up in Hungary, said Knaus, a major player within refugee-related politics in Europe. The refugee issue for Orbn is really just a means to an end and that end is a cultural counter-revolution in Europe and an end to liberal Europe, he said.
Unlike populists such as Nigel Farage, Orbn does not want to leave the EU. But he does believe in devolving power from Brussels, in building fences to deter migrants, and in deconstructing the kind of liberal democracy represented by the likes of German chancellor Angela Merkel. He recently called for a cultural counter-revolution within Europe, has praised aspects of strongman leadership by Russias Vladimir Putin and Turkeys Recep Tayyip Erdoan, and hopes his referendum will lead to a series of similar plebiscites across the continent.
Csaba Tth, co-founder of the Hungarian thinktank Republikon, said: I think Orbn genuinely believes that Europe is changing, that what he calls the liberal model is failing, that the present EU elite Jean-Claude Juncker, Merkel and the European commission are wrong, that hes right, that the majority of European people are behind him, and that hes the forerunner of things to come. He believes that, in 10 years, well see more Marine Le Pens in Europe than Junckers and Merkels, and that history will judge him [kindly].
But first Orbn must secure a turn-out of more than 50% on Sunday. To do so, his government has unleashed what research by Transparency International suggests is the largest advertising campaign in Hungarian history. Even in the countryside, voters are never far from a poster that warns: Dont put Hungarys future at risk! Of the roughly 20,000 outdoor advertising spots in the country, nearly 6,000 have been taken over by the governments campaign, TIs legal director, Mikls Ligeti, said. That is five times as many as the next largest, mounted by a tobacco firm in the mid-1990s.
Big hitters such as Lzr have been dispatched to tiny villages to make the case for voting. Mrtly was Lzrs 20th. First it will be 1,000, then it will be 10,000, 20,000, 30,000 if they come, it will be irreversible, he told the villagers. Regardless of who you vote for, regardless of whether you like Viktor Orbn, this is about who will live in your village, and therefore you should vote no.
A yes vote will force a flood of people on us people with a poisoned tooth in their pants! yelled one of the long-bearded pensioners, a retired electrician, Tibor Antal. What will we do if those guys come here? Well beat them up!
Hungarys rights campaigners say that the referendum campaign has turned an already dark public discourse into something far worse. The mood is quite reminiscent of the 1930s, said Mrta Pardavi, co-chair of the Hungarian Helsinki Committee rights group. Pardavi fears that stigmatisation of refugees could soon accelerate the alienation of other marginal groups in Hungary. Racism directed towards one group can easily be transferred towards other groups in society and the seeds of this are being sown by the government through their taxpayer-funded campaign, said Pardavi. This is what distinguishes Hungary from other European countries with hate speech here its the government that is funding it.
Orbns critics are suspicious about the timing of the referendum. No one expects the government to lose. Most of the liberal opposition dont dare to call for a yes vote, instead telling voters to stay at home or spoil their ballots.
Very few migrants now reach Hungary, after the countrys controversial new border fence blocked their path. Some suspect that the referendum is a means of distracting the electorate from more pressing issues, and of outflanking Hungarys largest opposition party, the far-right Jobbik.
Immigration ceased to be an issue within the country earlier this year, and so Orbns popularity started to drop, said Andrs Br-Nagy, a research fellow at the Hungarian Academy of Sciences. Thats when they basically invented this referendum. Thats how he can keep up his popularity.
Opposition politicians say the referendum is illegitimate according to electoral law that its beyond the purview of the Hungarian parliament. The question is unconstitutional, argued Viktor Szigetvri, leader of Egytt, a liberal opposition party. And its a sign of our illiberal democracy that such a formally illegal question can be put on the ballot paper.
For people like Szigetvri, this is just the latest erosion of due process under Orbn.
Orbns opponents claim that his Fidesz party has removed checks and balances since taking power in 2010 taking control of the constitutional court, installing a partisan electoral commission, and tinkering with constituency boundaries to ensure a larger majority.
Zoltn Kovcs, the governments lead spokesman, called the allegations simply false, and a common but stupid criticism. Kovcs said the referendum was legitimate because it had been verified by the constitutional court, that the court was legitimate because its members were elected by parliament, and that no gerrymandering had taken place to create parliamentary constituencies.
The Hungarian voters will has been administered clearly and, at the end of the day, its about the number of votes, said Kovcs. The opposition has to accept that.
But independent watchdogs allege that Orbns alarmist advertising campaign has diverted unnecessarily large amounts of state funds towards advertising moguls and media barons who tend to be friendly to his government.
Referendum advertising has largely appeared in outlets like 888.hu, Magyar Idk, Magyar Hrlap, Lokal, Ripost, TV2, EchoTV newspapers, websites and channels owned by businessmen considered to be Orbn loyalists. A lamp-post ad firm owned by another Orban associate, Istvn Garancsi, has also profited from the campaign as has an advertising agency owned by the neighbour of a government minister, Csaba Csetnyi.Lzr, regarded as Orbns gatekeeper, said there was nothing untoward about engaging party loyalists. They dont need the money theyve got enough money. This issue is much bigger.
Kovcs said: These are political allegations. All spending comes through a public procurement process, everything goes through rules that are valid, and everything is completely transparent.
Transparency International is unconvinced. Our concern is about the very questionable transactions that surround this campaign, said Mikls Ligeti, TIs legal director. Its a government campaign, not a party campaign, and the government is putting lots of funds into crony companies for their advertising.
On the high street in Mrtly, few seemed to care. Welcoming people from the Middle East was simply a bad idea, said Jzsef Borsos, the mayor. In our past we had a lot of experience with the Ottoman empire, he said. They lived here for 150 years. And no Hungarian who knows history will want that again.
A sign stuck to the bus stop reveals that the village is funded by the EU. But Hungarians dont owe Europe anything, Borsos said theyd done enough just by joining. Weve allowed the free flow of capital, Borsos noted. Factories and multinational companies can come here and profit, while weve given up on some successful industries.
Ferencn Lugosi, a 76-year-old former chef, was convinced refugees would put Hungarys security at risk. Yes, 200,000 Hungarians sought refuge from communism in 1956, she admitted, but todays refugees are very different. They want Hungarians to be their servants, Lugosi argued. They think that its the duty of Christians to serve them.
Additional reporting by Benjamin Novk
A CRUCIAL QUESTION
Hungarians go to the polls on Sunday to vote on whether parliament should allow the EU to set a quota for refugee resettlement in the country. The referendum was conceived and championed by the prime minister, Viktor Orbn.
Voters will be asked the question Are you are in favour of the EU being allowed to make the settlement of non-Hungarians obligatory in Hungary even if the parliament does not agree? The country received the second largest number of asylum applicants in Europe last year, behind Germany. Hungary received 174,000 asylum applications (13% of Europes asylum seekers) but very few actually stayed. In August Orbn announced that the country was planning to build a second fence to prevent refugees from crossing the border. It will stand next to its current 500km razor wire fence that runs alongside its border with Croatia and Serbia. Last year some 400,000 migrants crossed Hungary fewer than 18,000 have done so in 2016.
Until mid-June, only 2,280 people had been relocated across Europe from Greece and Italy, according to EU data. None were relocated to Hungary.
Read more: https://www.theguardian.com/world/2016/oct/01/hungarian-referendum-slam-door-migrants-new-era-europe