Security council threatens further significant measures against Pyongyang if regime continues to develop missile and nuclear weapons technology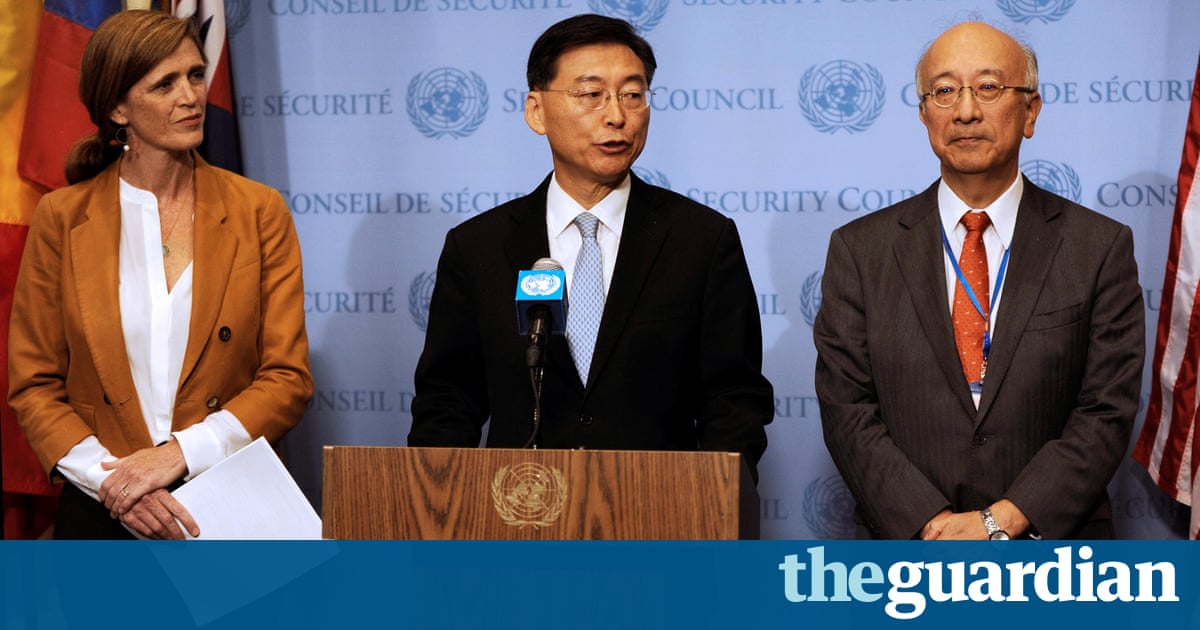 The United Nations security council has strongly condemned North Koreas latest launch of three ballistic missiles, and threatened further significant measures if the Pyongyang regime continued its missile and nuclear weapons development work.
Diplomats at the UN said that this latest rebuke of North Korea was agreed unusually quickly, reflecting Chinas anger at the missile launch on Monday as President Xi Jinping was hosting the G20 summit in Hangzhou.
Despite the bluntly worded statement, describing North Koreas flagrant disregard of its demands, there are no immediate plans to begin discussions on new sanctions. The focus will instead be on fuller implementation of the last round of sanctions imposed in March. The US and its regional allies, South Korea and Japan those most immediately threatened by Pyongyangs military capabilities are particularly keen to see China enforcing sanctions more robustly.
We are going to work diligently together with the most recent UN sanctions that are already placing North Korea under the most intense sanctions regime ever, Barack Obama said in Laos after a meeting with his South Korean counterpart, Park Geun-hye.
Were going to work together to make sure that were closing loopholes and making them even more effective. President Park and I agreed that the entire international community needs to implement these sanctions fully and hold North Korea accountable.
Taking into consideration the importance of Chinas role in effective implementation of sanctions and the resolution process of the North Korean nuclear issue, our two countries have agreed to continue to communicate with China through various channels, Park said.
Analysts pointed to North Koreas defiant launch as a reflection of both US and Chinas diminished leverage over the North Korean leader, Kim Jong-un.
The [US] administration talk about turning up the volume of its message, which seemed to me a bit ironic as Kim Jong-un is always photographed at these missile launches with earplugs. They can turn up the volume but he cant hear them for the sound of launching missiles, said Jeffrey Lewis, the director of the East Asia Non-Proliferation Programme at the Middlebury Institute of International Studies in California.
They just dont care what the Chinese say any more, so the industrial and political constraints are off.
Lewis said the launch of the missiles, which landed in the sea off Japan, demonstrated North Koreas increasing prowess at missile manufacturing.
Theyre getting better at it. They collaborate with the Russians and the Egyptians and the Iranians, but they can build this stuff on their own too, he said. Testing missiles simultaneously shows you can overwhelm a missile defence system.
Michael Elleman, a missile expert at the International Institute of Strategic Studies, said the missiles launched on Monday appeared to be modified Scuds, with the diameter widened to a metre, and with the casing made of aluminium instead of steel. Both modifications gave the missiles greater range, said Elleman.
The security council issued a previous warning to Pyongyang only 11 days ago, after the North Koreans launched a new solid-fuel submarine-launched missile, which Elleman described as a major technical leap.
Mondays launch is minor in significance compared to the submarine-launched missile, he said. With solid-fuel motors of that size, if they can do that on their own, they can tailor a missile to whatever strategic mission they want.
Read more: https://www.theguardian.com/world/2016/sep/06/grave-violation-un-strongly-condemns-north-korean-missile-launches