Victoria police commissioner says alleged plot included the use of explosives in attacks on Federation Square, Flinders Street Station and St Pauls cathedral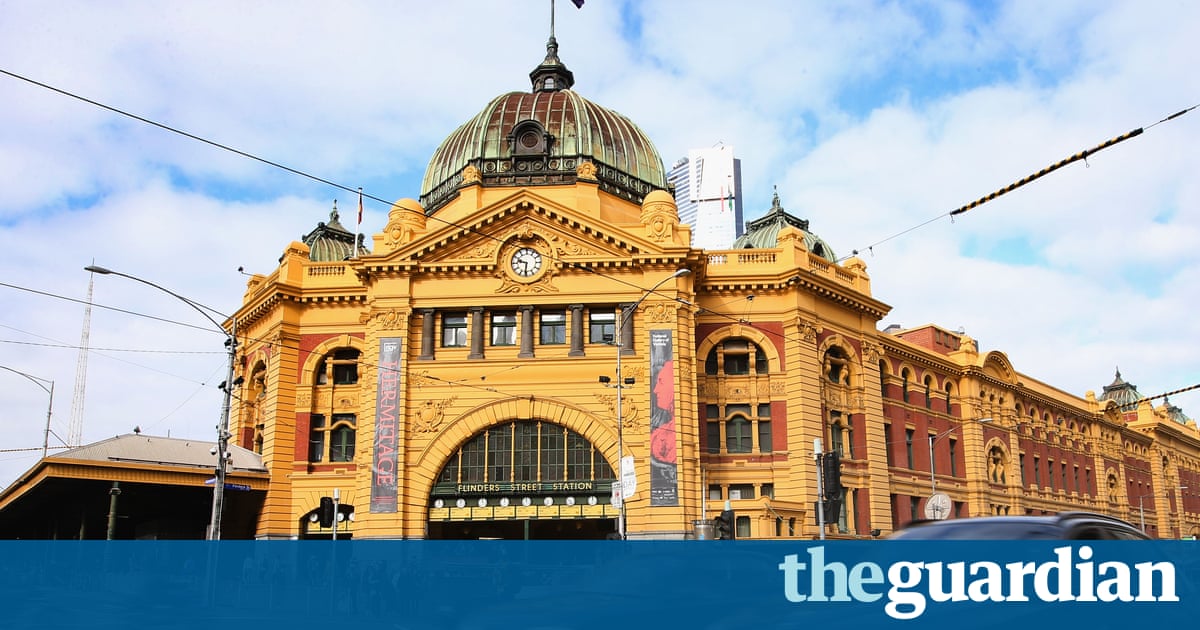 Victoria police say they have foiled an alleged plot by terrorists to attack landmark locations in Melbournes CBD including St Pauls Cathedral, Flinders Street station and Federation Square with explosives and other weapons, possibly on Christmas Day.
The chief police commissioner, Graham Ashton, told reporters on Friday morning that five search warrants were conducted at properties in Flemington, Meadow Heights, Dallas, Campbellfield and Gladstone Park on Thursday night.
Seven arrests were made, with five people remaining in custody, he said. Some of the men would appear in court on Friday afternoon, he said.
The attack that we will allege was being planned, we believe was going to involve an explosive event, the use of explosives, and we gathered evidence to support that, Ashton said.
There has also been evidence around the possibility of an intention to use other weapons. That could include knives and/or a firearm. Theres been some stated intention around that. That will form part of our allegations when the matter is presented to court.
Four of the five men to face court were Australian-born men in their 20s, the commissioner said. A further suspect facing charges was born in Egypt.
Ashton said there would be an increased police presence for the Boxing Day Test at the MCG and over the new year period, but there was no longer any direct threat. He said 400 officers were involved in the operation between Victoria police, Australian federal police and Asio.
Police believed the men were self-radicalised, inspired by Isis and Isis propaganda, Ashton said. The individuals involved in this matter have been persons of interest for Victoria Police and intelligence agencies now for some period of time, Ashton said.
They have been people we have been concerned about. Over the last fortnight that has accelerated. As a result of the investigation, we believe we have neutralised that threat. In relation to that threat, we believe that there was an intention to conduct what we call a multimode attack, possibly on Christmas Day.
One search operation still under way in Meadow Heights on Friday morning, Ashton said.
The Australian federal police commissioner, Andrew Colvin, said compared with other threatened attacks in the past few years, the alleged plot concerns me more than any other event that Ive seen.
They had moved very quickly from an intention to a capability, and developed capability, including quite progressed plans, we will allege.
The prime minister, Malcolm Turnbull, said it was one of the most substantial terrorist plots that have been disrupted over the last several years, describing it as an Islamist terrorist plot inspired … by Daesh or Isil.
This news will be of great concern to all Australians, Turnbull said. We are approaching the Christmas season, a time when we come together in peace and love, with our families. We congregate in public places for Christmas, for New Years Eve. It is a time of happiness and joy. These terrorists sought to disrupt it.
Islamist terrorism is a global challenge that affects us all. But we must not be cowed by the terrorists. We will continue to go about our lives as we always have. What these criminals seek to do is to kill. But they also seek to frighten us, to cow us into abandoning our Australian way of life. They want to frighten Australians. They want to divide Australians. They want us to turn on each other. We will not let them succeed.
The premier, Daniel Andrews, said the threat had been very real and very serious, but people should be reassured there was no intelligence to suggest any threats at other locations.
This matter has been contained, he said. We of course know and understand that the threat of these sorts of acts more broadly is very real. Victorians should go about their business at this very special time of the year.
What was planned here, what is going to be alleged was going to occur if not for the professionalism and hard work of our police, were not acts of faith, they were in their planning acts of evil.
Had the plot not been foiled, the attack would have been significant, Ashton said. No doubt about that.
Read more: https://www.theguardian.com/australia-news/2016/dec/23/five-in-custody-alleged-melbourne-christmas-terrorism-threat