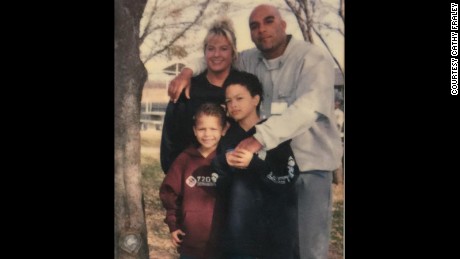 (CNN)The son of Eric Harris says he forgives Robert Bates, the former Oklahoma deputy who said he meant to use a stun gun but instead fatally shot Harris with a pistol.
"I was angry because he killed my dad but I'm not gonna let him have that power over me," son Aidan Fraley, 17, said Wednesday. "Even if he hadn't forgiven himself, we have."
Aidan's mother, Cathy Fraley, added: "I understand Mr. Bates has apologized and we have forgiven him, but there are consequences."
Bates, 74, was sentenced Tuesday to four years in prison on a charge of
second-degree manslaughter
, the maximum sentence for that offense. Cathy and Aidan Fraley took the stand and told Bates they forgave him.
"He told me not to make the same mistakes he did," Aidan said. "He wanted the best for me and didn't want me to make the same mistakes he did. I needed him in my life because my mom could teach me a lot but she couldn't teach me how to be a man."
Aidan is reconnecting with his uncle, Andre Harris, a pastor in Tulsa, and plans to attend college in the fall. Eric Harris also loved Trae Fraley, Cathy Fraley's older son, though they weren't related by blood, she said.
Tulsa County Prosecutor Kevin Gray said few police officers go to jail in the shooting of suspects.
He also called the case an "outlier" in the criminal justice system, noting he knows of no other cases that follow this "fact pattern."
Bates' defense team has not responded to CNN's requests for comment about Bates' prison sentence.
The estate of Eric Harris filed a federal lawsuit last January against Bates, the former and current Tulsa County sheriffs and three other men who were employed with the sheriff's office. The suit alleges use of excessive force and other violations.
Read more: http://www.cnn.com/2016/06/01/us/oklahoma-deputy-robert-bates-family-forgives/index.html