The war amongst men in Westeros would've ended
Just when it appears the two have reached a stalemate with no resolution… in enters Ser Elmo. The Lannisters are beside themselves as the helmet-laden monster joins their discussion and offers some *essential* wisdom that he picked up during his days on the Streets of Sesame: Tyrion and Cersei need to learn how to respect one another!
As Elmo points out, both Cersei and Tyrion would be much better off if they simply set aside their family drama and made an effort to listen, understand, and, most importantly, R-E-S-P-E-C-T each other as knowledgable dignitaries. The lesson immediately resonates with Tyrion, who muses:
"If we stop fighting and work together, we could be stronger."
Together, they could move mountains! Or The Mountain! (You get the point.)
When Tyrion and the Red Monster offer the usually combative Cersei a chance to listen to her enemies, and try to understand them, she says she'll give it a "try" — then she joyfully peer pressures Ser Elmo into drinking a glass of her finest wine.
Now, if only Ser Elmo could have a chat with the Night King about how it's not cool to convert people into a race of zombie slaves, we'd be all set…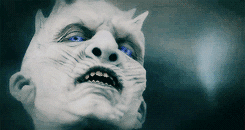 The heartwarming clip comes in celebration of Sesame Street's 50th anniversary and is part of HBO's new campaign that focuses on respecting one another — a concept that, evidently, many HBO characters could use a lesson on.
While Elmo was in Westeros, Cookie Monster dropped by Westworld to deliver a similar lecture to Bernard (Jeffrey Wright) and Dolores (Evan Rachel Wood). As Cookie Monster explains — using a cookie as a metaphor, obvi — the two might have been able to make it out of the park alive had they been able to be honest to one another about their complicated history. Watch (below)!
Respect. Sure, it would make our favorite shows far less entertaining, but it's absolutely something we should practice in our everyday lives!
[Image via HBO]
Read more: https://perezhilton.com/game-thrones-sesame-street-elmo-respect/