San Francisco 49ers quarterback responds to Trumps ignorant statement: Lets make America great for the first time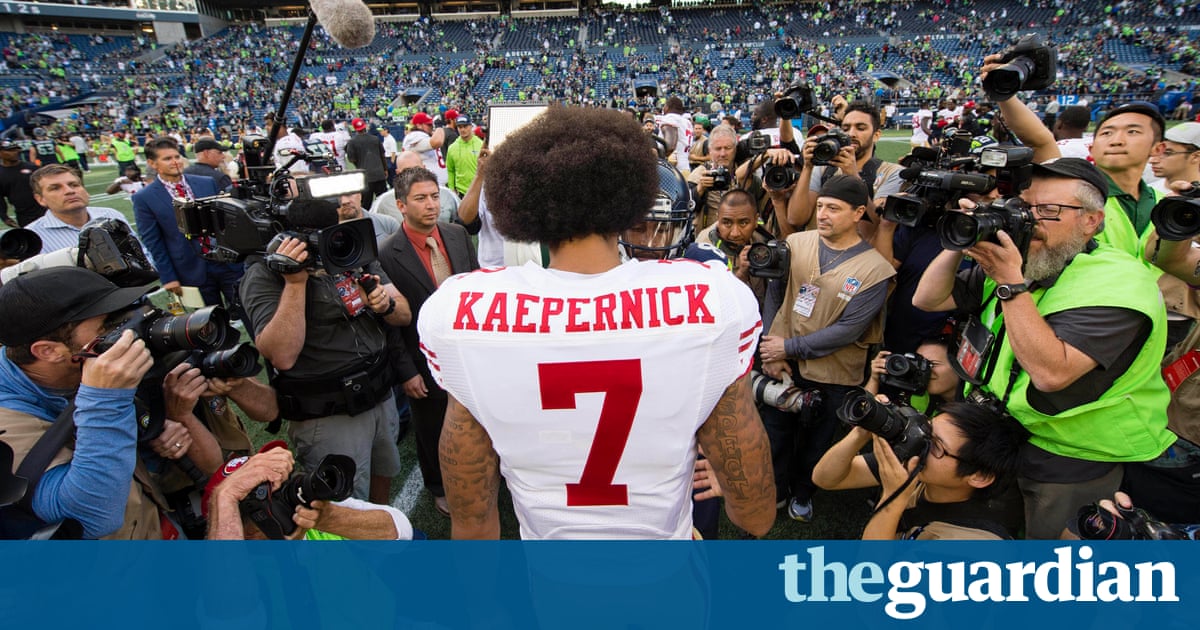 Colin Kaepernick has hit back at Republican presidential candidate Donald Trumps assertion that the quarterback should find another country that works better for him in response to his decision to kneel for the national anthem.
Kaepernick, whose protest has sparked a national discussion over racial injustice and inspired dozens of other professional and collegiate players to follow suit, characterized Trumps comment as a very ignorant statement during Tuesday afternoons media availability at the teams practice facility.
Its a very ignorant statement that, if you dont agree with whats going on, hearing that if you want justice and liberty and freedom for all, then you should leave the country, Kaepernick told reporters in a video shared by the Bay Area News Group. He always says make America great again. Well, America has never been great for people of color. And thats something that needs to be addressed. Lets make America great for the first time.
Kaepernicks remarks came the morning after Mondays first presidential debate, where Trumped doubled down on his call for the national introduction of stop and frisk, the controversial police tactic ruled unconstitutional in 2013 when a federal judge found it disproportionately targeted African American and Latino neighborhoods.
Trump first addressed Kaepernicks protest in an appearance last month on the Dori Monson Show, a conservative afternoon talk-radio program in the Seattle area.
I have followed it and I think its personally not a good thing, the GOP candidate said. I think its a terrible thing, and you know, maybe he should find a country that works better for him. Let him try: it wont happen.
Hall of Fame coach Mike Ditka echoed Trumps remarks last week, saying he had no respect for the quarterback and the players who have joined the protest.
If they dont like the country, if they dont like our flag, get the hell out, Ditka said in a radio interview on KRLD-FM in Dallas. I have no respect for Colin Kaepernick. He probably has no respect for me, thats his choice. My choice is that I like this country, I respect our flag, and I dont see all the atrocities going on in this country that people say are going on.
Kaepernick, who burst from obscurity to lead San Francisco to within five yards of a Super Bowl title during the 2012 season, has yet to take a snap in three regular-season games as a backup to starter Blaine Gabbert. He said last month he will continue to kneel until he feels the social injustices facing people of color in the United States have been addressed.
The 49ers host the Dallas Cowboys on Sunday afternoon.
Read more: https://www.theguardian.com/sport/2016/sep/27/colin-kaepernick-donald-trump-america-people-of-color