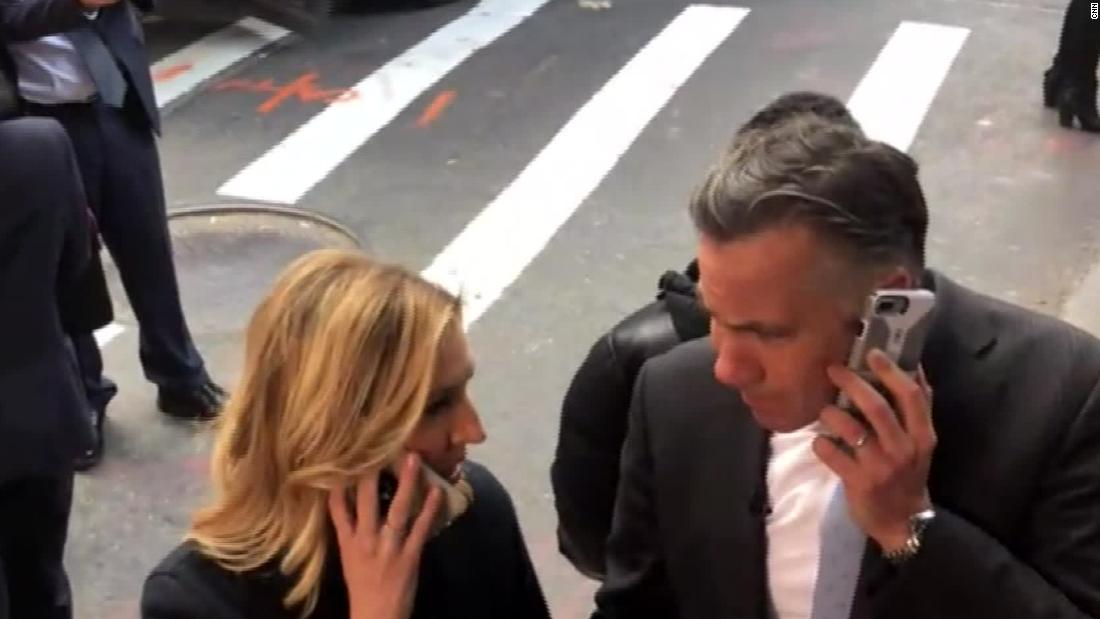 New York (CNN)CNN anchors Poppy Harlow and Jim Sciutto were covering the suspicious packages sent to the Clintons and the Obamas when the fire alarm sounded inside their New York City studio.
Over the loudspeaker, CNN staffers were told to evacuate the building. Right over Harlow's shoulder, viewers could see staffers grabbing their coats and walking out to the lobby.
"There's a fire alarm here," Harlow said.
"We'll be right back," Sciutto said, tossing to a commercial break.
The suspicious device was delivered to the mailroom of CNN's parent company, WarnerMedia, around 9:30 a.m. ET on Wednesday, according to a WarnerMedia executive who requested anonymity.
It "appeared to be a pipe bomb," the executive said.
The fire alarm was audible on TV at 10:09 a.m.
The entire WarnerMedia operation in New York was evacuated, from CNN's offices and studios on the lower floors to the corporate suites upstairs.
The network had to scramble to keep the 10 a.m. newscast on the air. When the anchors heard the fire alarm, they asked a question to a remote guest, Tom Fuentes, which gave them a moment to size up the situation. Then they tossed to commercial and evacuated.
The newscast is usually produced out of a control room in Atlanta, which is why there was no interruption in programming. In the control room, executive producer Michelle Moryc lined up correspondent Rene Marsh, who was standing by for a live shot in the DC bureau, to substitute anchor.
In her wall of monitors, Moryc also saw reporter Shimon Prokupecz in front of another camera in the Washington bureau. He had just been on the air covering the other suspicious packages. He was now gathering information about the situation at Time Warner Center.
So when the newscast came back from commercial, Marsh explained the evacuation in New York and tossed to Prokupecz for more information.
Within a few minutes, Harlow and Sciutto were back on live TV, thanks to a staffer's cell phone and the Skype app.
Viewers were able to see the two anchors walking down 58th Street, away from the Time Warner Center building, along with other CNN staffers.
Technical operations supervisor David Foote held up the cell phone camera while studio operator Phil Pernice and technical production manager Alix Steinfeld reestablished communications with Atlanta.
Harlow and Sciutto each held two cell phones — for getting updates and for communicating with the control room and hearing other guests. It was a surreal scene — having to report on the evacuation of the newsroom in real time.
CNN's New York bureau quickly set up other live shots for correspondents like Athena Jones. In the hours that followed, Wolf Blitzer and Jake Tapper led CNN's television coverage from DC while Harlow, Sciutto and 11 a.m. anchor Kate Bolduan reported from a nearby street corner.
Dozens of CNN staffers turned hotel lobbies and restaurants into temporary workspaces. Email chains, conference calls and Slack channels were used to organize coverage.
One of CNN's rivals, CBS News, reached out to offer assistance. CBS is located a few blocks away from CNN on the west side of Manhattan.
CNN Worldwide President Jeff Zucker thanked CBS News and news division president David Rhodes "for graciously offering their assistance while we deal with this."
"Really nice to see from our fellow journalists," Zucker wrote in an internal memo.
At CNN's headquarters in Atlanta, where parts of the CNN Center complex are open to the public, "we are putting up magnetometers at the entrances to the building," Zucker told staffers. "We remain vigilant regarding security concerns across all of our global locations."
Read more: https://www.cnn.com/2018/10/24/media/cnn-coverage-of-evacuation/index.html