The Republican nominees late-night Twitter attacks on a former beauty queen show mental fragility, Hillary Clinton told rallies in the swing state of Florida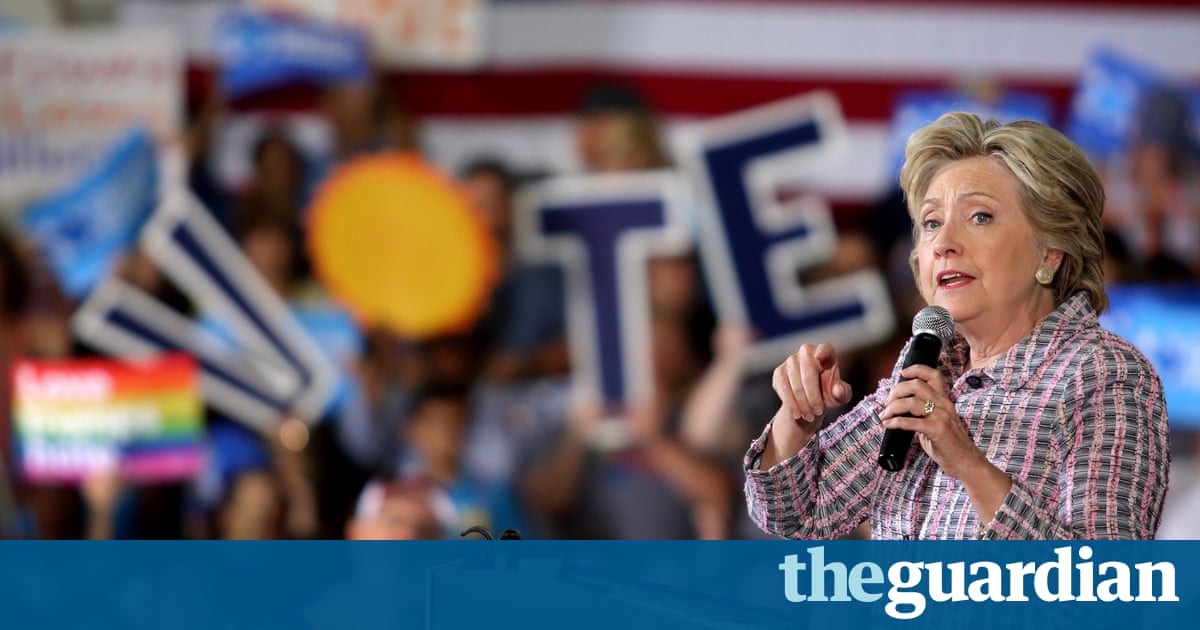 Hillary Clinton took another swipe at Donald Trumps mental stability on Friday, declaring at a campaign stop in South Florida that the Republican nominee is temperamentally unfit for the White House.
Why does he do things like that? Clinton demanded at a rally in Coral Springs, referring to Trumps early morning social-media assault on former beauty queen Alicia Machado, which dominated the days political debate.
Who gets up at three oclock in the morning to engage in a Twitter attack against the former Miss Universe?
Trump sent a string of tweets between 5.14am and 5.30am ET, alluding to unproven accusations against Machado, who became Miss Universe in 1996 when Trump owned part of the contest and who Clinton cited in an attack regarding Trumps treatment of women during Mondays first presidential debate.
Trump also claimed Machado, originally from Venezuela, had been helped to become a US citizen so Democrats could use her against him.
I mean, his latest Twitter meltdown is unhinged, even for him, Clinton said. It proves, yet again, that that he is temperamentally unfit to be president and commander-in-chief.
Ive said it before and Ill say it again, a man who can be provoked by a tweet should not be anywhere near the nuclear codes.
Trump used Twitter on Friday to reply to criticism of his tweets and the hours at which they were sent by saying such nocturnal activities represented his willingness to work round the clock, writing: For those few people knocking me for tweeting at three oclock in the morning, at least you know I will be there, awake, to answer the call!
In two rallies in Florida, Clinton blended her attacks on Trump with new policy priorities, proposing at an earlier address in Fort Pierce a new national service reserve program for young Americans that appeared to be an attempt at winning back support among millennial voters.
With recent polls showing the Democratic presidential nominee losing the confidence of voters under 30, and more than one in three planning to vote for a third-party candidate, Clinton offered students a pathway to paying down college debt in return for public service.
If you do national service, we will begin a program to forgive your loans because you are giving back to your country, Clinton said, touching on themes of civic responsibility and renewing a culture of service among Americans of all ages, as well as declaring her intention to massively expand the AmeriCorps volunteer program.
I want to find more ways for more students to get college credit for service, she said, because I know too many talented, committed young people who pass up serving with AmeriCorps because, with their student loans, they cant afford it. So lets lighten that burden.
Clinton, who was introduced in Coral Springs by a middle school civics teacher, also repeated a campaign pledge from earlier in the week, for free college tuition for children in middle-to-low-earning families.
If you are a family that makes less than $125,000 you will not pay tuition to go to public college, Clinton said, to cheers from a crowd of 2,400 inside a small municipal gymnasium. A college degree should not lead to being mired in debt.
Students at the rally praised the new proposals. Emily Beth, 24, and Stav Berlin, 23, studying education management together at Palm Beach State College, said they were worried about taking on debt to finance their masters degree studies in two years time, once their current course ends.
Its a brilliant idea, Berlin said. Instead of paying back big corporations the money, we can pay it back by giving back to the community, rather than the Sallie Maes of the world that take and take and take.
Beth, who will be voting in her second presidential election, said she liked that the volunteer work she already does tutoring children through the Literacy Coalition of Palm Beach could help pay off her college loans.
This country is drowning is student debt, she said. Its a brilliant idea because the paying back is in the form of community service thats positively going to impact our entire country.
Another student, Mia Ulrich, 18, of Pompano Beach, said she hoped to study anthropology at Florida International University in Miami, but admitted: Ive been worried about how Im going to pay for school. I like the community service aspect because then Ive given back in an active way, not only to get what I need.
In a part of her speech that resonated with the audience, Clinton demanded answers from Iran over the fate of Bob Levinson, 68, a Coral Springs resident, former FBI agent and private investigator who disappeared in 2007.
The Levinson family believes he is being held hostage by or with the knowledge of the Iranian government.
My heart goes out to Bobs family, Clinton said. Its time for Irans regime to provide information about his whereabouts.
She also mentioned the death of Miami Marlins pitcher Jos Fernndez, a popular Cuban-born baseball star who was killed in a boating accident last weekend. She did not revisit a controversy from Thursday, in which her campaign seized on a Newsweek report that said Trump conducted business in contravention of the Cuba embargo in 1998.
In a 30-minute address in Coral Springs, Clinton touched only briefly on several familiar policy themes, such as helping small businesses and equal pay for women. She did mentioned Mondays first presidential debate. A post-debate poll by Mason-Dixon released on Friday showed her edging ahead of Trump in Florida, 46% to 42%.
With 29 electoral college votes Florida is a key swing state, potentially pivotal on 8 November. Clinton promised many more visits in the 38 days left before the election.
Ill be here in Florida so much youll get sick of me, she said at the conclusion of her speech.
The Clinton campaign announced on Friday that President Obama, who won Florida by less than 75,000 votes from Mitt Romney in 2012, will campaign in Miami next Wednesday. Vice-President Joe Biden will make appearances in Orlando and Sarasota on Monday.
With the 11 October deadline for voter registration in Florida looming, Democrats are ramping up efforts to ensure a high turnout. In Broward County, of which Coral Springs is part, Clintons campaign has opened 10 field offices in recent weeks, to Trumps three.
Despite Broward being the bluest of Floridas 67 counties, with 578,000 registered Democrats to the 252,000 Republicans, party strategists say every vote is crucial to counter the wide margin of victory Trump is expected to score in more rural counties, where populations are overwhelmingly white.
Read more: https://www.theguardian.com/us-news/2016/sep/30/clinton-trump-temperamentally-unfit-lead-alicia-machado