The birthday celebrations for baby Kulture continue with a brand new song from proud momma, Cardi B!
In honor of her baby girl's birthday, the Press rapper shared a snippet of an unreleased track (recorded while she was pregnant with the one-year-old) over a seriously cute photo and video montage shared on Instagram.
Because, hey. When your mother is one of the hottest recording artists in the game, you get a little more than just the good old "Happy Birthday" song, right?
Ch-ch-check out the sweet tribute and listen to the track, featuring a sample from Eve's 1999 hit, Love Is Blind, (below):
Awwww, nice! Offset's wife really did her thang on this one!
But why are we just now hearing the song recorded almost a year ago, anyway?
In her post, Cardi shared that she recorded the untitled song right before she turned in her debut album, Invasion of Privacy. It just didn't make the cut because she was sick at the time and was unable to spit a crystal clear version ready for release, even with the help of vocal mastering.
She wrote:
"Thank you everybody for wishing my sweet baby a Happy Birthday.I made this song one day before I turned in my album and Eve gave me the green light for the beat I was so grateful! She a real one !It didn't make it on time tho cause as you can hear I was maaa stuffy with a terrible cold.I couldn't get it right no matter how many times I spit it 😩Even when we try to mix it u still sound stuffy. I love my baby she changed my life."
It totally makes sense why Bardi opted not to move forward with the tune, until now.
It also serves as the cutest ode to the little one in the background of Cardi's IG post, celebrating the wonderful moments shared as a family during Kulture's first trip around the sun.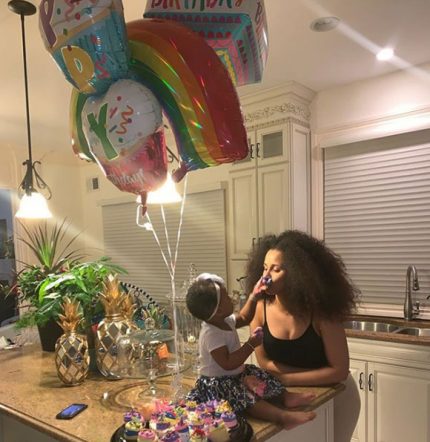 We're really feeling the love, girl!
Especially this one line near the end, where the Money rapper reflects on the decision to move forward with her pregnancy while on the rise to superstardom:
"Cardi you're so stupid / You're gonna ruin your career / I know I won't / But if I did, I wouldn't care"
Man. We hope that Belcalis decides to give it another go, and release the song for real one day. Especially as we wait on that next album!
Proud auntie Hennessy Carolina is already a huge fan of it too, leaving this supportive message about the snippet:
"😩😩😩😭😭😭I love this song so much, aunties baby is such a blessing I love her so much !!!!! my beautiful baby kulture 🎈🎂❤️😘"
Happy Birthday again, Kulture!
Are YOU guys feeling the track? Sound off in the comments below!
[Image via FayesVision/WENN/Cardi B/Instagram]
Read more: https://perezhilton.com/cardi-b-new-song-kulture-birthday/