Festivals 70th anniversary poster features a young Cardinale, whose waist has been narrowed and thighs made slimmer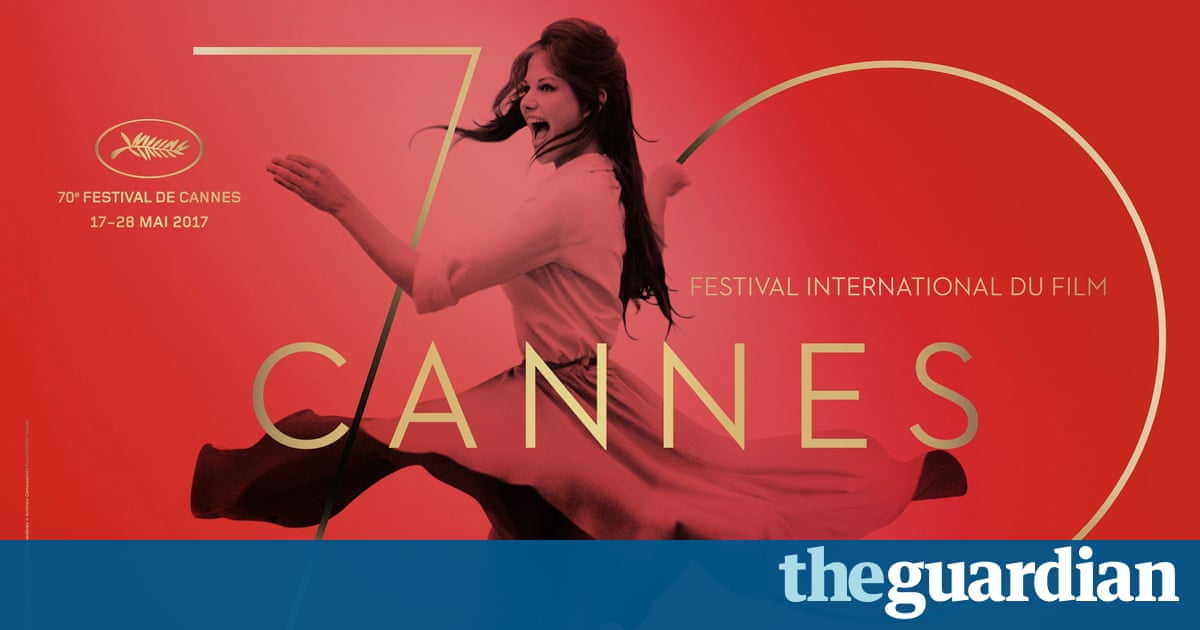 The official poster for this years Cannes film festival has been criticised after Italian actor Claudia Cardinale appeared to have been airbrushed to make her look thinner.
French media poured scorn on the festival for seemingly tampering with a photograph of Cardinale swirling her skirt on a Rome roof in 1959.
Claudia Cardinale dropped a dress size in one swirl, said the left-leaning Libration, while the culture magazine Tlrama questioned why it was necessary to retouch the star. Le Monde offered a slide tool for readers to analyse how the image had been changed.
While the poster is magnificent, the photograph has clearly and deplorably been airbrushed to thin the actresss thighs. What a pity, it said.
There was a similarly hostile reaction on social media, with one Twitter user saying: If even Claudia Cardinale cannot represent beauty without being retouched, we really are in trouble.
Others spoke of the dictatorship of thinness or pointed out that Cardinale wasnt thin enough for Cannes.
However, the actress, now 78, was unimpressed by what she called a fake row. She told the Huffington Post: This image has been retouched to accentuate this effect of lightness and transpose me into a dream character.
This concern for realism has no place here and, as a committed feminist, I see no affront to the female body. There are many more important things to discuss in our world. Its only cinema.
Cardinale said in a statement released by the festival that she was honoured to feature on the poster for its 70th anniversary year. That dance on a roof in Rome reminds me of a time when I could never have imagined climbing up the red-carpeted steps of the most celebrated film festival in the world, she said.
But Claire Serre-Combe, of the French womens group Osez le feminisme! (Dare to be Feminist), said it was a scandal that Cardinale who was thin and magnificent in the original photo, should have to lose kilos for the poster.
The festivals director Thierry Fremaux told AFP the poster had been very well received.
Tunisian-born Cardinale starred in some of the greatest European films of the 1960s and 1970s including Federico Fellinis 8 and Luchino Viscontis The Leopard.
The furore comes as Fremaux is whittling down the line-up for the festival, which will run from 17 to 28 May. Sofia Coppolas US civil war story The Beguiled is tipped to be recognised. It stars Colin Farrell, Nicole Kidman, Elle Fanning and Kirsten Dunst in a film about a wounded soldier who is given refuge in a girls boarding school.
Fellow US indie director Todd Haynes is also among those thought to have made the cut with Wonderstruck, his time-shift story of two deaf children, starring Julianne Moore and Michelle Williams.
Speculation is also swirling around War Machine, the big-budget Afghan war story starring Brad Pitt. Matt Damon could end up being in two films at the festival, Alexander Paynes sci-fi comedy Downsizing and George Clooneys new family drama Suburbicon.
There has been much talk, too, of a special screening of Cannes favourite David Lynchs revival of his cult television series Twin Peaks.
There are also likely to be films from Palme dOr winners Roman Polanski After a True Story starring Eva Green and the unsparing Austrian director Michael Haneke tackling the migrant issue in Happy End, which reunites him with French actor Isabelle Huppert.
Read more: https://www.theguardian.com/film/2017/mar/30/cannes-film-festival-2017-airbrushing-claudia-cardinale