Leave.EU, pressure group set up by Nigel Farage before referendum, tweets that French people had rolled over like they did in 1940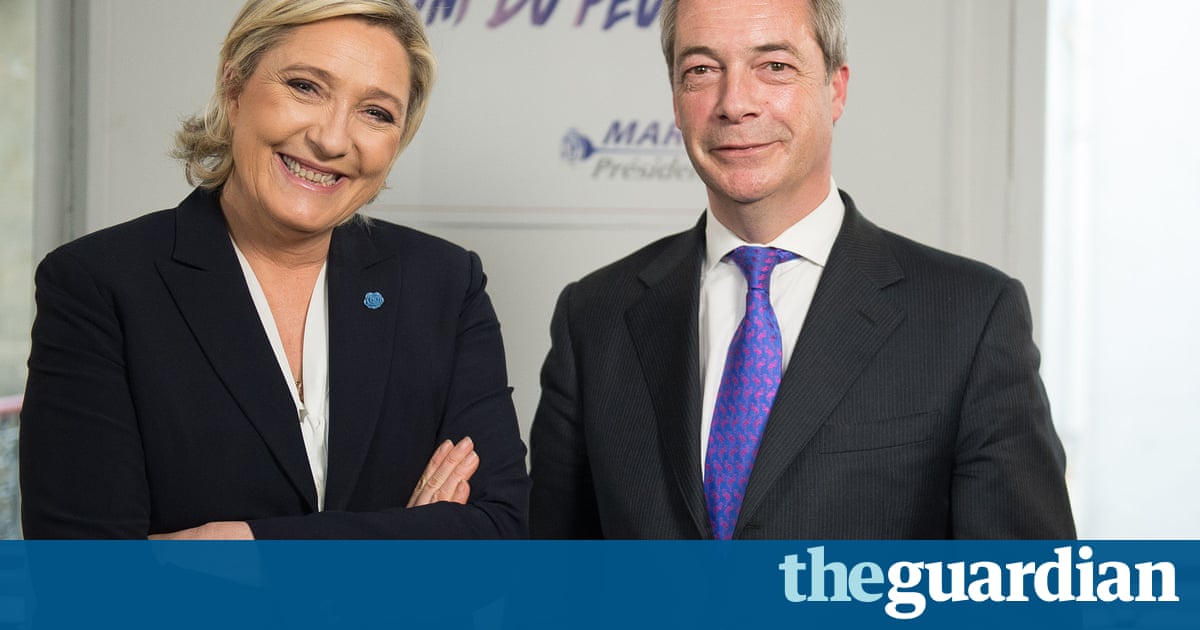 A Brexit campaign group poured scorn on France and Emmanuel Macron after the centrist newcomer comfortably defeated his far-right opponent Marine Le Pen in Sundays presidential election runoff.
The Twitter account of Leave.EU, the pro-Brexit pressure group set up by Nigel Farage for last years referendum, tweeted that the French people had once again rolled over just as they had done in 1940 except this time they saved Germany the bullets and the fuel. The tweet also included a picture of a newspaper headline from 1940 reporting the surrender of France to the Nazis.
Picking up on the same theme, Farage tweeted: A giant deceit has been voted for today. Macron will be Junckers puppet.
The former Ukip leader was predicting that Le Pen would come back stronger in five years and eventually win the presidency thanks to a backlash over Macrons pro-globalisation and pro-EU policies.
Le Pen had told Macron during the debate that whatever happened in the election, a woman would be running France either her, or the German chancellor, Angela Merkel.
As well as praising Le Pen in recent weeks, Farage declared in a TV interview on Sunday morning that the 48-year-old had lost weight and was looking pretty fit.
Several other Brexiters mocked Macrons relationship with his wife Brigitte, who first met the president-elect when she taught him at high school and is 24 years his senior.
Katie Hopkins tweeted a picture of the pair and the caption: Macrons wife has promised him a special new toy from the shops tomorrow for being such a clever little boy.
Echoing a line used by Le Pen in a televised debate with Macron on Thursday, Simon Richards, the CEO of the libertarian group the Freedom Association, said: Macron evidently likes older women, so hell make an excellent lapdog for Angela Merkel.
With almost all the votes counted, Macron was on 66.06%, and Le Pen 33.94%. On Sunday evening the victor took to a stage outside the Louvre in Paris before crowds of cheering supporters to declare that he would work hard to ensure those who voted for the Front National candidate would have no reason to to vote for extremism ever again.
Donald Trump had also praised the Front National leader as the strongest on borders and the toughest on radical Islamic terrorism. When Macrons victory was confirmed, the White House responded with a terse two-sentence statement congratulating Macron and stating that cooperation with France would continue.
Read more: https://www.theguardian.com/world/2017/may/07/british-brexit-supporters-insult-emmanuel-macron-after-presidential-win