Antonio Conte has admitted that Spurs are now the best team in the Premier League and said Chelsea only have a 50% chance of winning title after their 2-0 loss to Manchester United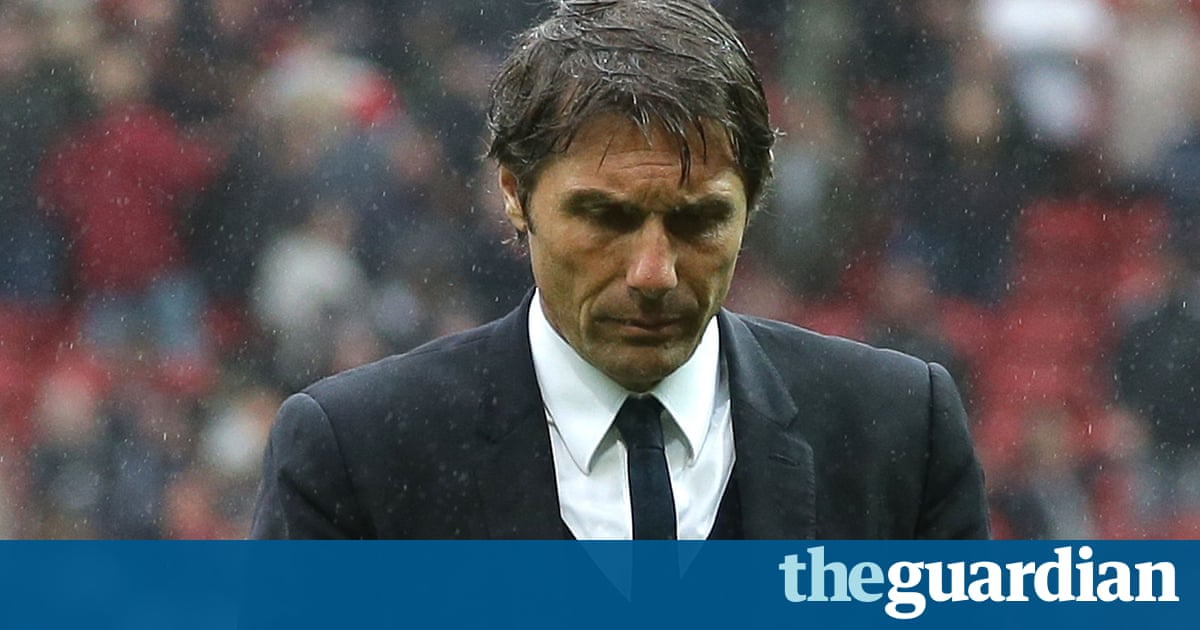 Antonio Conte admitted that Tottenham Hotspur were now the best team in the Premier League and said Chelsea had only a 50-50 chance of winning the title after their defeat at Manchester United restricted the league leaders to a four-point lead at the top of the table.
Chelsea were 13 points clear when they beat Stoke City on 18 March and Conte said he had to take the blame for Uniteds 2-0 win, admitting his players had not been focused or motivated enough to win.
They [United] showed more desire, more ambition, more motivation, he said. It is very simple and in this case the fault is with the coach. It means the coach was not able to transfer the right concentration, desire, ambition to win this game.
Marcus Rashford opened the scoring for United on a day that finished with Jos Mourinho announcing he had found a specific system to overcome Chelsea, predominantly by man-marking Eden Hazard and Pedro, and insisting his team would also have won their FA Cup quarter-final at Stamford Bridge last month had it not been for Ander Herreras sending off. Herrera was assigned to mark Hazard on both occasions and in the latest match he also contributed Uniteds second goal as Chelsea suffered their second defeat in their last four games.
We lost two games but those games were totally different, Conte said. Against Crystal Palace [a 2-1 defeat] we didnt deserve to lose. Today we deserved to lose the game. We didnt play a good game and United deserved to win. We have to think there are six finals from now until the end of the season. The league is open and we have a 50% [opportunity] to win the league. It will be good to finish on top of the table and, if so, it means we deserve this. Otherwise we must clap another team.
Contes mood was not helped by the fact Thibaut Courtois missed the game after being injured apparently playing basketball in a promotional event for the NBA and the Chelsea manager must now lift his team for their FA Cup semi-final against Spurs on Saturday. It wont be easy because I think Tottenham are now the best team. They are in good form and they have a lot of enthusiasm. They are feeling the possibility to write history and it is important for us to know this.
United have now gone 22 games unbeaten in the league and move back to fifth position, four points behind Manchester City but with a game in hand against Burnley at Turf Moor next Sunday. The two Manchester sides meet at the Etihad Stadium on 27 April.
The satisfaction is for different reasons, Mourinho said. Firstly, with the Liverpool and Manchester City victories, if we didnt win its goodbye to the Premier League [finishing in the top four]. The second is they [Chelsea] are the leaders and when you beat the leaders it is obviously a very good feeling.
I was convinced even before the Cup game that controlling the two players [Hazard and Pedro] who play behind Diego Costa … would create lots of problems [for Chelsea] and I repeat the same. They are phenomenal on the counter-attack. But when they tried to play counterattack we were always in control. We did that at Stamford Bridge when we played with 11. I had the feeling before this match, but now Im totally convinced, that with 11 players at Stamford Bridge we would be playing against Tottenham at Wembley this weekend.
Mourinho indicated that he still expects Chelsea to win the league. They are in the position where everybody wants to be, he said. It is better to be in Chelseas position than Tottenham position, that is for sure.
Chelsea also have an easier run-in and Conte said he was sure his players can handle the pressure. I must have confidence, in myself, in the players, in the club, because it is not the first time we have faced this kind of situation, the Italian added. It is important to understand which was wrong today and then to restart together but I repeat for the performance today the fault is mine.
Read more: https://www.theguardian.com/football/2017/apr/16/antonio-conte-spurs-best-team-premier-league