Is this another case of the rich and powerful being protected at the highest levels?
Recently Ronan Farrow accused NBC News of going to great lengths to protect Harvey Weinstein (and eventually Matt Lauer) by shutting down his story — you know, the reporting that won the Pulitzer Prize…
Now a similar claim is being made against ABC News — only this time the subject of the reporting is billionaire convicted pedophile Jeffrey Epstein, and the accusation is, aptly, a lot messier.
An activist group called Project Veritas (more on them later!) got their hands on some unedited footage of 20/20 anchor Amy Robach, captured by the network's own cameras during an off air moment, complaining to a producer about their Epstein coverage.
A Rant Recorded
Specifically, Amy is upset the network waited so damn long to get on this story; she says she had a lot of what's come out recently for quite a long time, before Epstein's death, before the new charges, even before the downfall of Alexander Acosta. Years before:
"I've had this story for three years. I've had this interview with Virginia Roberts. We would not put it on the air. First of all, I was told, 'Who's Jeffrey Epstein? No one knows who that is. This is a stupid story.'"
UGH. What an annoying reason not to follow through! Especially considering how big the scandal got later on!
Profit is a real problem in TV news right now; while weighing public interest on a story is obviously important, it seems too often ratings end up dictating coverage.
But that wasn't the real complaint here. It was the next roadblock she faced…
For those who aren't aware, Virginia Giuffre (formerly Roberts) has been involved in a lawsuit over allegations she made against Epstein and a few of his associates.
Virginia has painted a portrait of Epstein's modus operandi: getting VERY young girls to sleep with rich and powerful men so that he could then hold that knowledge over their heads, giving him power over them.
Perhaps most notably for the now-35-year-old is Prince Andrew — whom she claims had sex with her when she was just 17. It's that tidbit Robach frustratedly says got the story buried again:
"Then the palace found out that we had her whole allegations about Prince Andrew and threatened us a million different ways. We were so afraid that we wouldn't be able to interview Kate and Will. That also quashed the story."
Whoa!
She's saying they put the kibosh on an interview with a sexual misconduct accuser because of pressure from the Royals?? And ABC News was more worried about getting one-on-ones with Prince William and Kate Middleton than about the news??
That's gross.
She continues:
"And then Alan Dershowitz was also implicated because of the planes and all. She told me everything. She had pictures, she had everything. She was in hiding for 12 years, we convinced her to come out. We convinced her to talk to us."
Well, she has certainly gone public now — just not on ABC News.
Famed attorney Alan Dershowitz was among those named in Giuffre's claims. He was a known associate of Epstein who has admitted to getting a massage from girls at the sex offender's mansion but insists he kept his underwear on.
Ew.
Robach mentions one more famous name in her diatribe, one of the two presidents connected to Epstein:
"It was unbelievable what we had. Clinton — we had everything. I tried for three years to get it on to no avail and now it's all coming out and it's like these new revelations. And I freaking had all of it. I'm so pissed right now. Every day I get more and more pissed. What we had was unreal."
Yep. Bill Clinton.
He was also pals with Epstein and infamously took multiple international flights on the billionaire's private jet.
ABC's Response
OK, so what does ABC News have to say about this?
According to the news network, they didn't cover up the Epstein story — they just didn't have enough to go on at the time. But they insist they're still working on it (just a few years later than they could have):
"At the time, not all of our reporting met our standards to air, but we have never stopped investigating the story. Ever since we've had a team on this investigation and substantial resources dedicated to it. That work has led to a two-hour documentary and 6-part podcast that will air in the new year."
That would hold so much more water if the whole "reporting not meeting the standards" excuse weren't the EXACT same one NBC used re: Ronan's Harvey Weinstein news.
For some reason it seems stories in which women are making accusations about powerful men just have a harder time hitting those standards. Maybe the networks are simply waiting for a man to come along and say, "Yeah, she's right" in all these cases?
The other reason this is difficult to buy is Robach laying out a pretty specific reason for the story getting canned — the people it implicated.
Since the leak has spread, Amy has backtracked on her complaint, releasing a statement defending the network. AKA her bosses. Who employ her. Which is not suspect at all. But what she said was:
"I was upset that an important interview I had conducted with Virginia Roberts didn't air because we could not obtain sufficient corroborating evidence to meet ABC's editorial standards about her allegations. My comments about Prince Andrew and her allegation that she had seen Bill Clinton on Epstein's private island were in reference to what Virginia Roberts said in that interview in 2015. I was referencing her allegations — not what ABC News had verified through our reporting. The interview itself, while I was disappointed it didn't air, didn't meet our standards. In the years since no one ever told me or the team to stop reporting on Jeffrey Epstein, and we have continued to aggressively pursue this important story."
Hmm. Sounds like the company line to us, not at all what she was saying when she thought no one was listening.
She had specific complaints about why the story was getting buried, and not once did she even say it was about journalistic standards, not even that someone had told her it was because of standards.
We have to be honest here, we aren't buying this statement.
It sounds to us like ABC didn't have the guts to brave a legal headache — and potentially sour a relationship with the Royal family — back when the story wasn't already on every other network. Sure, they're reporting on it now. Everyone is reporting on it now! While it may still piss off the palace, it's not like the Royals can deny access to every news outlet on the planet and shut themselves up in their castle like The Beast.
So now the risk is minimal, and ABC is working on it. OK.
Now, does this look like some sort of concerted effort by higher ups to bury a story involving rich and powerful men? We can't say for sure on that front.
Obviously one group who have already made up their minds on that front are the people who leaked the clip in the first place…
Project Veritas
We have to point out Project Veritas is a right wing group intent on discrediting news media groups. If the group were just highlighting real deficits in coverage — like, say, Ronan Farrow has done in his excellent reporting — that would be commendable. However, these guys are known for their own deceptive stunts.
Remember Alabama Senate candidate and accused teen sexual predator Roy Moore? Project Veritas infamously tried to prove the Washington Post was using fake sources in their reports on Moore by paying a woman to try to sell the paper a fake story about him.
The plan backfired when the reporters actually did what reporters do and in their process of vetting the woman's story inadvertently uncovered the scheme.
The problem with groups like this appears obvious to us: it doesn't seem they're looking to correct the behavior of the media, to get them to do a better job of getting the straight story to the people. No, it definitely comes across like they're trying to sow doubt in the news in general for their fearless leader.
Yeah. Doesn't it seem clear as day they're just trying to "prove" Donald Trump's grotesque campaign against the free press as the "enemy of the people"? And as evidenced by their past behavior, they're willing to use deceptive practices to do that.
The Irony
The really wild thing about all this?
Trump is a rich, powerful man we know has been protected by news organizations. American Media, Inc, owner of the National Enquirer, has admitted in a court of law to the practice of "catching and killing" stories about Trump to protect his reputation.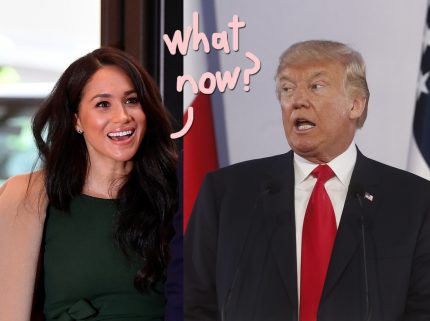 CLICK CLICK CLICK Next Article
Read more: https://perezhilton.com/amy-robach-abc-news-jeffrey-epstein-prince-andrew-video-interview/