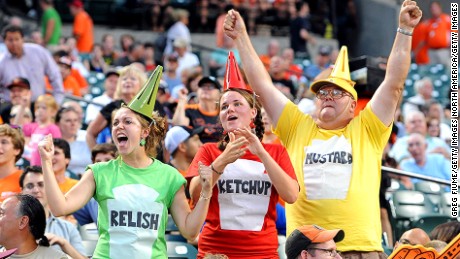 (CNN)Prefer to pack a bottle of fish sauce than an extra pair of shoes?
Think a jar of local chili paste sounds like a great travel souvenir?
Only feel comfortable when there's three types of vinegar and no less than four soy sauces to choose from?
The diagnosis is clear: You're a condiment freak.
Consider that a compliment.
There are things in bottles, jars, tubes and dispensers that we'd all struggle to survive without.
So which are the most crucial?
Essentials like salt, pepper, sugar, herbs and spices aside, we've put together a list of the world's most delicious condiments.
Did we miss any?
Tag your tweets or Instagram photos #CNNFood and let us know.
Mayonnaise
It's tasty on takoyaki with teriyaki sauce.
Or as a truffle mayo dip for fries.
Or simply spread over deep-fried chicken.
Forget that a spoonful contains more than 90 calories, this creamy rich substance has the power to make every food finger-suckingly good.
Soy sauce
Who knew fermented soybeans could make such a delicious dark sauce?
There's actually no one single soy sauce.
Any proper Chinese family kitchen will contain a minimum of three types, all with different flavors and different uses.
There's the soy sauce that delivers a massive salty punch.
And there's the soy sauce that gives a delightful color to steamed fish.
And then there's the soy sauce that gets soused over everything to improve bad food in a cheap restaurant.
Relish
Great name, great condiment.
Or family of condiments, for relish is a catch-all term for lively sauces or pickles made from chopped fruits or veg.
There's the charmingly named gentlemen's relish — an English anchovy paste for spreading on bread, potatoes or handlebar moustaches.
Also in the UK, there's Henderson's Relish, a bottled spicy liquid almost exclusively enjoyed in the northern English city of Sheffield.
The city's celebrated guitar band Arctic Monkeys are known to stock up on supplies whenever they're in town.
Tabasco
Another pride of Britain in the condiment world, we bring you Worcestershire sauce.
Similar recipes of a fermented anchovy sauce can be traced back centuries.
It was popularized as Lea & Perrins when a small drug store of the same name in Worchester, England, bottled and branded it.
It's a welcome addition to many recipes including cheese on toast and Bloody Mary cocktails.
Nam jim gai
A sweet chili sauce in Thailand, nam jim gai marries very well with almost all chicken dishes.
Lingonberry jam
It's hard not to love Swedish meatballs.
But the best thing about these bite-sized treats is the sweet and slightly acidic lingonberry jam that often accompanies them.
It's so good, it's managed to infiltrate many Scandinavian dishes — from pancakes to beef stew to Christmas rice pudding.
Mirin
Japanese cooking 101 students will get nowhere without a bottle of mirin.
It's a type of rice wine with a sweetened flavor that's often used in place of sugar.
The clear golden brine can help hide an unwanted gamey or fishy taste in meat.
It gives food a more attractive glaze too.
November 30 is Mirin Day in Japan, as 11 and 30 sound like good and mirin in Japanese.
Love food? Love to travel? Share photos of your own Culinary Journeys on Instagram with the hashtag #CNNFood for a chance to be featured on CNN.com. For inspiration, check out a few of our recent submissions below.
Read more: http://www.cnn.com/2016/05/31/foodanddrink/best-condiments/index.html