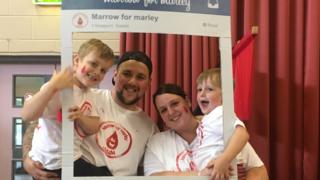 An "amazing" 14,000 people have signed up to become potential stem cell donors since a campaign was launched last month to find a "life saver" for six-year-old Marley Nicholls, according to his mother.
The Newport boy needs a bone marrow transplant after being diagnosed with a rare blood disease this summer.
His mother Shaney Truman said: "There are a lot of lovely people out there.
"But we will not stop until we find that special someone."
Marley has recently returned home from hospital for treatment after picking up an infection.
And he will not be able to start the new school term next week as he has become susceptible to bugs.
Ms Truman said it was upsetting that he could not join his friends at school.
And his younger brother George, four, who starts reception class, has also been asking why Marley will not be joining him.
"We don't want to jeopardise anything," said Ms Truman.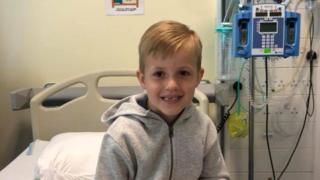 Marley has been diagnosed with aplastic anaemia, which affects between 30 and 40 children each year in the UK and stops the body producing enough blood cells.
It means he needs a bone marrow transplant to live.
The family's biggest hope of a suitable donor was Marley's brother, but George was found not to be a match.
So their parents launched the Marrow for Marley campaign on Facebook, calling on people to add their names to a register to become a stem cell donor.
And the results have been "overwhelming", according to Ms Truman.
"This has restored by faith in humanity," she said.
Potential donors sign up and receive a mouth swab kit which they use at home.
This is then sent off to be tested and the records are stored in case they match a patient, comparing the white cells in the blood to reveal tissue types.
If a match is found, the donor is then contacted to begin the donation process which can be similar to giving blood in most cases.
Read more: http://www.bbc.co.uk/news/uk-wales-45372056